Inter-M is one of the world's leading manufacturers of professional audio equipment, providing a comprehensive range of 100v line, low impedance and audio-over-IP (AoIP) amplifiers, loudspeakers and audio signal processing equipment for the AV installation industry.
Inter-M Distributor UK
CIE is the exclusive UK supply partner for Inter-M. Having worked together for over 25 years, CIE is recognised as one of the most successful Inter-M supply partners in the world.
Over this period, Inter-M's Professional Audio product range has been specified into many of the UK's leading system installations across the full spectrum of commercial and private sectors; resulting in its enviable reputation as 'The Industry Standard' for installed sound.
Within many of the retail sector's largest high street and supermarket chains, banks, building societies, airports, places of worship, hospitals and education, you'll find high quality, trusted PA and AV systems powered by Inter-M.
---
Inter-M product range:
Low Impedance Power Amplifiers
---
Inter-M are the market-leaders in professional and commercial amplification.
Our range of 100v line and low impedance Desktop Amplifiers are packed with innovation and efficiency, whilst remaining easy to use and highly reliable.
Ideal for public address and background music systems.
Inter-M's market leading range of 100v line power amplifiers for medium to large installed PA and BGM systems.
The Inter-M Power Amplifier is the back bone to many of the UK's largest and most successful commercial audio systems, powering public address and background music systems for projects as diverse as universities and schools, hospitals, shopping centres and high street retail, offices, banking and much more.
Low impedance stereo and quad amplifiers for professional audio systems and installations.
The Inter-M range of multi-channel professional amplifiers provides high-quality, reliable and robust power for large scale and complex multi zone public address and background music systems.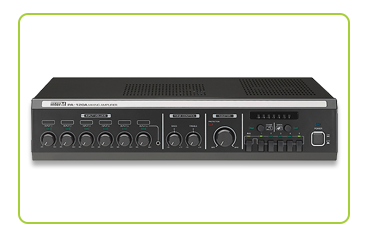 The Inter-M range of Audio Processors and Mixers is ideal to refine and control multiple audio signals in professional PA and Background Music Rack systems.
The range includes multi-channel Mixers, Pre-amplifiers, Audio Matrices and more for full control of complex audio systems.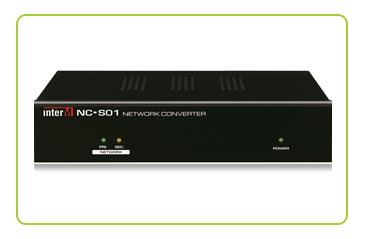 Audio-over-IP (also known as AoIP or Networked Audio) is the latest audio signal distribution technology, allowing long distance, fully controllable voice and music to be distributed over standard Ethernet cable for background music and public address applications.
The Inter-M range offers audio-over-IP for commercial PA and background music applications, as well as advanced Dante solutions offering low-latency, uncompressed audio transmission.
Inter-M's range of Professional Audio Source devices are designed to provide ongoing and reliable, high quality music and voice signals for 19" rack installed audio systems, such as public address, background music and audio advertising.
Our Audio Source range includes multi-CD changers, USB/MP3 players, tuners and internet radio receivers for installation into a standard 19" rack enclosure.
Inter-M offers an extensive range of professional loudspeaker products to meet the needs of all types of commercial applications including voice reinforcement, public address, background and foreground music.
Available in both 100v line and low impedence formats, Inter-M Loudspeakers are designed to ensure reliable, high quality and intelligible sound reproduction in all types of environment including indoor/outdoor, high-noise and harsh conditions.

---

---
Need help with an upcoming project using Inter-M products?
CIE's AV experts offer a wide range of added-value services above and beyond the expectations of many other distributors including; System Design, Product Specification, Wiring Diagrams, Rack Design & Build, System Configuration, Training and Onsite/Remote System Support.
Our customers can access any or all of these services - many of which are totally free-of-charge - on a project by project basis; benefitting from increased skill levels, specialists in new technologies & integration or simply to increase your resource for pre- and -post sales support.
---
Project examples using Inter-M products:
Just a few examples of the hundreds of AV and Intercom Systems designed and delivered by the CIE team of AV experts, benefitting from our product specification, system architecture and rack build services...

---
Product Service & Repair
If you would like to discuss your next professional audio project or would like more information on the latest Inter-M products, please call our team today on: 0115 9770075 or email us now: [email protected].
Our technical services team also provides a UK-based product Service & Repair provision, ensuring fast and efficient warranty and out-of-warranty support for your products. For all Product Servicing enquiries please contact our Customer Services Team.
---
Dedicated Rack Design & Build Facility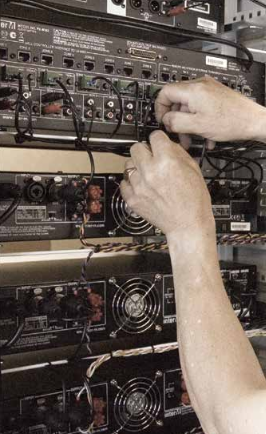 For many years, our customers have also benefited from our comprehensive Inter-M Rack System Design & Build Service, to provide 'ready to install' PA, VA and AV Racks in some of the UK's largest and most successful installations.
Using our extensive portfolio of Inter-M products, our highly skilled, UK-based Technical Services Team have a reputation for consistently producing some of the UK's highest quality, ready-to-install PA rack systems to customers' specifications.
There is no set limit to the size of system we can produce, anything from a small single zone speech-only system, to a multi-zone system combining speech and music. Monitoring and battery back-up can also be accomodated by our in-house Technical Facility,
To ensure that we build your system to your specific requirements, we have produced a technical questionnaire which, once completed by yourselves or with our assistance, outlines requirements such as number of microphones etc.
Each system is supplied assembled, wired and fully tested before leaving our workshops.
As part of the Build Package, each System is supplied with a comprehensive operations manual incorporating user instructions for each individual piece of equipment, a schematic drawing of the System, a visual of the Rack layout and easy to use connection details.
Finally each system is given a unique identification number specific to your installation which allows our Technical Services Team to easily identify any system we have assembled, to efficiently assist with any after sales service requirements.
Call the CIE sales desk on 0115 9770075 for advice, free UK site surveys and a highly competative quotation.
---
Related Products