End-to-end project support for Audio Visual and Security Systems
CIE is a whole lot more than simply a 'box-shifting' distributor and is a pioneer in the AV industry for 'added-value distribution' service. We understand that to compete in this market our customers require the very highest standards of service and support with products and projects.
Total System Support service for your AV or security project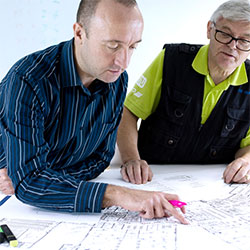 CIE's award-winning team of AV and systems integration experts provides a unique total project management service to the UK installer/integrator market.
Our AV experts offer a wide range of added-value services above and beyond the expectations of many other distributors including; System Design, Product Specification, Wiring Diagrams, Rack Design & Build, System Configuration, Training and Onsite/Remote System Support.
Our customers can access any or all of these services - many of which are totally free-of-charge - on a project by project basis; benefitting from increased skill levels, specialists in new technologies & integration or simply to increase your resource for pre- and post-sales support.
Our System Design Process
One of the most significant services provided by our AV experts is our system design and architecture service - providing our customers with a unique total project management service...
Consultation / Site Survey
System Scoping & Design
Quotation
AV Rack Build
Detailed System Architecture
Delivery to Site
System Commissioning
Training
See full details of our Audio Visual System Design process here...
---
Systems designed and delivered by our AV & security experts
Just a few examples of the hundreds of AV and Intercom Systems designed and delivered by the CIE team of AV experts, benefitting from our product specification, system architecture and rack build services...

---
Product & System Advice and Technical Support
Whether it's simply advice with choosing the right product for your application, product configuration support, wiring diagrams or detailed advice on system integration or architecture, CIE's team of AV and intercom experts are on-hand to help. Our team includes fully trained sales support staff, system designers and technical engineers, as well as area account managers who are happy to arrange advice & training at your place of work or on-site at your project.
---
Remote System Configuration Support
With I.P. connectivity becoming increasingly commonplace in our audio, video and intercom product ranges, we are frequently able to offer remote technical support and system configuration assistance for your systems.
Should you require technical assistance or configuration support for any CIE I.P.-connected products, please contact our Technical Support Team, who will arrange an online remote login to your system to assist you with the process.
---
Training
We offer a wide range of training options on product, installation and technologies for our customers and your clients. We can arrange training on any of our products for you or your clients at your place of work, on-site or here at our Training Facility in Nottingham.
We also run a wide range of free AV Training Academies for AV professionals throughout the UK on the latest technologies and installation techniques.
Online training is also available via our award-winning free online training channel HowToAV.tv, as well as regular training webinars from our product partners.
---
Product Remanufacture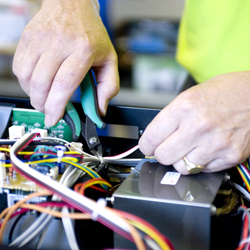 Our in-house technical services team can provide additional support to your individual projects via our Product Remanufacture service, offering custom design and re-engineering to CIE products where standard off-the-shelf features don't quite fit the needs of your project.
Remanufacture projects in the recent past have included amplfier modifcations, analogue to IP loudspeaker conversion, AV connectivity and switch plate manufacture, custom-built zone paging microphones, loudspeaker colour matching and 100v line to low impedance speaker conversion.
---
Product Service & Repair
Our technical services team also provides a UK-based product Service and Repair provision, ensuring a fast and efficient warranty and out-of-warranty support for your products. For all Product Servicing enquiries please contact our Customer Services Team.
---
Ready to discuss your next AV or Security system?
Contact CIE today and let's get our system experts on-board to help deliver your project on-brief, on-budget and on-time...