Location: Solihull, West Midlands
Integrator: Midland Communications
The Client: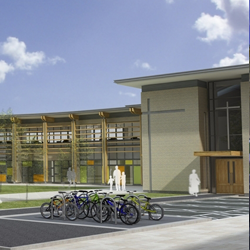 Opening its doors for the first time in September 2013, The Bishop Wilson CofE Primary School is a £10 million new school development which forms the heart of a new village in Chelmsley Wood, Solihull.

This brand new two-form entry school and nursery has been developed not only to provide an education for the area's 3 to 11 year olds, but also incorporates the village's relocated church, adult learning centre, community area and health facility. The result is an outstanding educational and community development which provides a safe, secure and inspiring environment which encourages both pupils and the wider community to use and interact with the school.
System Requirements:
Accommodating this diverse, multi-use concept requires significant flexibility of services and utilities – including the integrated audio system installed throughout the building. UK communications integrators – Midland Communications – were brought in to ensure a high quality, reliable, flexible and user-friendly system was put in place…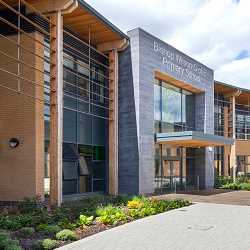 Midland Communications worked in close partnership with AV distributor CIE's in-house system design team to provide a full turn-key design-to-delivery service for all audio systems throughout the school, church and community areas.
CIE were involved in the system from the 'ground-up'; consulting and specifying from plan drawings prior to the one-year project build, supplying all product direct to site and designing and building the complete Bell Timing / PA / Music Distribution audio rack and church radio microphone rack. Both racks were delivered direct to site ready for 'plug-and-play' installation by Midland Communications' engineers.
The Solution: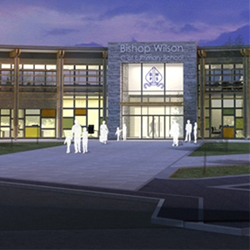 The main audio rack – which provides bell-timing, public address and background music distribution throughout the entire complex – features at the heart of it the InterM PX8000 Audio Matrix which provides 8 In – 8 Out signal distribution and control flexibility to each of the building's individual zones. Additional remote control per zone is also provided using the PX8000's RM-8000 and LM-8000 wall plate and desk mic. input/control devices.

CIE-Group also specified and supplied a number of Soundfield Voice Reinforcement Systems for permanent installation in Bishop Wilson School's classrooms. Soundfield classroom voice reinforcement systems are low-level audio systems featuring an infrared wireless microphone worn by the teacher to discreetly raise their voice for clear, consistent voice coverage throughout the entire classroom space.
The increased use of Soundfield as a teaching aid in the classroom has huge benefits to pupils with hearing difficulties, but is also proven to benefit mainstream students (whose concentration and understanding is significantly improved) and teachers who no longer have to raise their voices in noisy / lively teaching environments, therefore reducing problems of voice strain and stress.
PA / Bell Timing Rack Build Specification
- CIE-Group AV Rack Design & Build Service
- InterM PX8000 8x8 Audio Matrix
- InterM QD-4480 4 x 120W Multi-Channel Amplifier
- InterM OT-4480 4 x 120W 100v Transformer
- InterM PA9336 360W 100v Power Amplifier
- MCD15 5 Disc CD Player with MP3
- Euromet 01513 22U Rack Enclosure
- Clockaudio CW9000 UHF Handheld Wireless Microphone System
- Clockaudio CW9001 UHF Beltpack Wireless Microphone System
- Clever Little Box AVB5 Audio via Bluetooth Wireless Interface
Loudspeaker Specification
- IC Audio DL06-165T Ceiling Speakers
- InterM CU940 40W Column Speakers
Soundfield Specification
- Chiayo Infrared Soundfield Systems
- IC Audio MS15-100T/W Loudspeakers
- InterM PA1000B 100v Amplifiers