CIE's specialist Electronics division provides a unique service to the manufacturing and installation markets, designing, manufacturing and stocking bespoke connector and cabling solutions for our customers' unique requirements and projects.
Our expert electronics team are committed to fully understanding the individual needs of each of our customers and to providing both exemplary service and the highest quality cable & connector products.
As well as a significant UK stock holding of professional connector products from the likes of Switchcraft and EDAC, our continuing success comes from our unique Custom Electronics service and supply.
Using our global network of sourcing, supply and manufacturing partners, we work closely with our customers to fully understand your unique project, to ensure that our solution delivers on specification, time and budget.
---
Why use custom cables & connectors?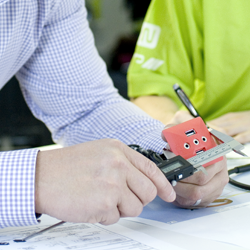 Finding the exact standard cable or connector from stock isn't always easy and can often result in compromising your product or system design. CIE's custom electronics service allows you to specify the exact requirements for your cables or connectors - cable length, connector type, pin number, colour, IP rating, price, branding and more...
We work on a diverse range of projects in the AV, industrial, product design, military and process control industries - with each individual project having it's own unique challenges and requirements. Our team of electronics experts work with you from day 1 of your project, through to ongoing supply, ensuring the highest quality product, meeting your exact specifications, whilst making the process as simple and efficient for you as possible.
---
Our key services
The CIE Electronics team provides a full turn-key service; from on-site efficiency analysis, to initial briefing and product design, to tooling and samples, to stock profiling and UK stock holding on your behalf.
With over 50 years in the electronics and technology industries, we combine our experience and knowledge with an innovative and vibrant approach to new ideas and opportunities to provide our customers with the best in quality product and service.
---
The benefits to our customers
We understand that cables and connectors may not be the highest priority when designing and manufacturing your finished product! But on your behalf, CIE will treat your electronics needs as the most important component there is.
With our ability to take away the headache of design, tooling, testing, manufacture, quality control and stock handling, we can effectively manage quality and budget more effectively - we like our customers to think of us as an extension to your very own R&D team.
---
Our 6 Point Process to your unique Cable or Connector
To ensure the most efficient, effective design and delivery of your custom cables or connectors, the CIE Electronics team employs a simple 6 Point Process for each project...
See full details of our Custom Electronics Process here...
---
Our Customers
There is no single 'type' of customer that benefits from our service; over the years we have worked with blue chip manufacturers and Europe's leading electronics distributors, as well as small bespoke manufacturers and start-up companies. Every customer is treated with the same exemplary levels of service and support.
Among our long list of very satisfied customers, we are proud to include:









---
Let's talk about your next project
No matter how big or small your next project, or how simple or complicated it may seem, the CIE Electronics Team would love to hear from you!
Call us to today to discuss your project or to arrange for one of our Project Team to visit you for an initial briefing session. Call us on T. 0115 9770075 or Email us at [email protected]