Location: Inverclyde, Scotland
Installer: Reliance High Tech
The Client:

Port Glasgow Community Campus is a new £44m combined schools complex in Inverclyde - an amazing new learning environment shared by Port Glasgow High School, St Stephen's High School and Craigmarloch Additional Support Needs School.
Hosting all three schools within one Campus, both high schools have their own entrances, foyers, classrooms and teaching studios, all of which are linked through a shared social hub.
System Requirements:
To co-ordinate and implement the Mechnical & Electrical System throughout the project, one of Scotland's leading M&E Contractors - Reliance High Tech - were brought on-board, also delivering the specification and installation of campus-wide PA, Soundfield Voice Re-inforcement and Induction Loop Systems as a key part of their project brief.
The Solution:

Reliance High Tech engaged the assistance of leading PA / AV specialist distributors CIE AV Solutions to design, specify and supply a fully-integrated, robust audio system which would provide zoned coverage throughout the building.
CIE's specialist, in-house audio system design team provided free on-site / off-site consultation and system design service in order to specify (and later supply) a complete public address and induction loop system, together with 36 Soundfield systems to be installed into each classroom to provide teacher voice re-inforcement for an improved learning environment.
All amplification, audio control and loudspeakers were supplied by CIE AV Solutions, including two bespoke built PA racks built in-house by CIE's technical services team. The racks also make full use of CIE's own-brand Clever Little Box LB-8A Digital Audio Store, which has been integrated to provide bells, tones and messages triggered by the LEA's own class-change system.
Soundfield Specification: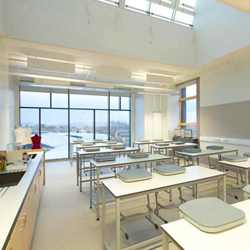 - 17 x i-ceilings Soundfield Pack A Classroom Voice Reinforcement System
- 19 x i-ceilings Soundfield Pack B Classroom Voice Reinforcement System
PA / Bell Timing Rack Build Specification:
- CIE-Group AV Rack Design & Build Service
- Inter-M DPA-430H 4x 300W 100v Power Amplifier
- Inter-M PAM480A 480W Amplifier
- Inter-M QD-4480 Multi Channel Amplifier 4 x 120W 4ohm
- Inter-M OT-4480 4 x 120W 100v Transformer Unit
- Inter-M PP9213 Pre Amplifier / Mixer
- Inter-M RM-05A 5 Zone Microphone Console
- Euromet 01513 22U Rack Enclosure
- Clever Little Box AVB5 Audio via Bluetooth Wireless Interface
- Clever Little Box LB-8A Digital Voice Store
Loudspeaker Specification:
- 290 x FBT CSL106T Ceiling Speakers
- 30 x IC Audio DAP20-130T Music Projector Speakers
- Majorcom IMC250T 30W Omni Suspended Speakers
- Inter-M CU940 Indoor Column Speakers
Contact the CIE AV Solutions experts for help with your next audio system
CIE's in-house team of AV experts provide free consultation and system design services for many of the UK's largest Public Address and AV integrated systems. Contact the team to discuss how we can help with your next AV project; please call T. 0115 9770075 or email to [email protected]