What are the enhanced features of the new 2N Verso 2.0?
Enhanced camera performance: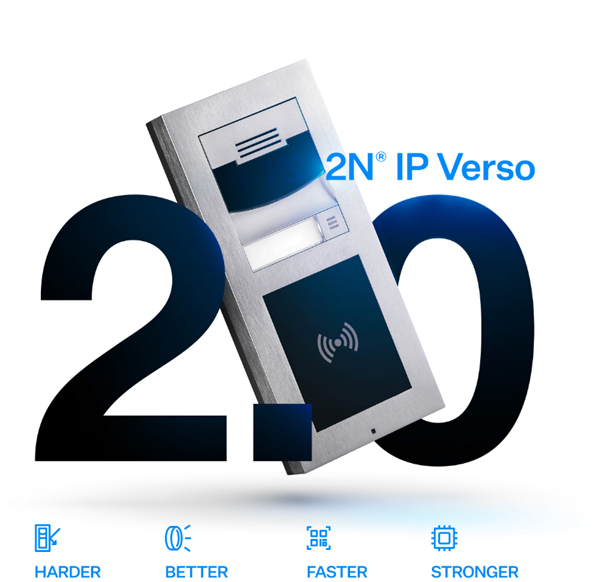 Experience exceptional video quality from the wide-angle, Full HD camera which captures vibrant colours and unbeatable clarity, even in challenging lighting conditions, thanks to the WDR-capable lens and high-performance Axis ArtPec-7 chipset.
Powerful processor and advanced features:
Powered by the cutting-edge ARTPEC-7 processor, this 2nd-generation Verso IP intercom now offers advanced capabilities such as QR code reading. Enjoy seamless integration and improved performance, unlocking new possibilities for access control and convenience.
Unparalleled modularity and customisation:
Tailor the modular 2N IP Verso 2.0 to meet your project's exact requirements. With more than 20 different modules available, you can create a truly unique door intercom system. Choose between nickel or black finish for a stylish and personalised look.
Versatile installation options:
Select the installation method that suits your project best. Whether it's wall-mounted, flush-mounted, or placed on glass, the 2N IP Verso 2.0 adapts seamlessly to different environments, ensuring flexibility and ease of use.
Mobile access and QR code integration:
In addition to traditional access methods such as PIN and RFID, the Verso 2.0 intercom provides fast and reliable mobile access credentials through WaveKey technology. Now with the added convenience of QR code reading, granting one-time access key credentials has never been easier.
Robust and resilient chassis:
Built to last, the new anodized aluminium chassis guarantees exceptional durability. Its rugged construction ensures that the intercom maintains its shape perfectly, even when installed on uneven surfaces, without any dents or compromises.
Efficient storage management:
Featuring Axis high performance technology, the latest generation Verso 2.0 intercom reduces bit rate and storage requirements of Full HD video streams by an average of 50% compared to H.264. Enjoy high-quality video without worrying about excessive storage demands.

The 2N IP Verso 2.0 is available with a variety of access authentication methods:
RFID / secured RFID
Bluetooth
WaveKey access
Smart Pin Keypad
QR Code
The 2N IP Verso 2.0 at a glance:
Latest 2nd-generation 2N Verso Modular Intercom - finished in Nickel or Black
IP-connected Door Entry System
Full HD camera with infrared light and night vision
ArtPec-7 processor for advanced feature support
QR code access reader as standard
SIP communication protocol
Integration with third-party video surveillance systems with ONVIF support
Web interface administration
PoE or 12v power supply
IP54 and IK08 protection ratings

Find out more about door entry and access control...

---
FEATURES
2N IP Verso
2N IP Verso 2.0
Part numbers
9155101 / 9155101B
9155101C / 9155101CB
9155211C / 9155211CB
Camera resolution
640 x 480 px (VGA)
1920 x 1080 px (Full HD)
Max. viewing angle
128 deg (H) x 95 deg (V)
138 deg (H) x 105 deg (V)
WDR support

X

✔
IR illumination
✔
✔
Zipstream (video compression)

X

✔
QR code access

X

✔
ARTPEC-7 processor
X
✔
Face zooming
X
✔ (Q4 2023)
Chassis material
Hardened Plastic
Anodized aluminium
Inputs / Outputs
1 x IN, 1 x OUT, 1 x NO/NC Relay
1 x IN, 1 x OUT, 1 x NO/NC Relay
IP & IK Ratings
IP54, IK08
IP54, IK08
Available to order now from CIE
Available now from 2N UK distributor CIE-Group, the 2N IP Verso 2.0 range combines the best of IP intercoms and state-of-the-art contactless access control.
For full details or to arrange a product demonstration, please contact the CIE sales team on T. 0115 9770075 or email [email protected]
---
Related Products: