The 2N IP One is a brand new, single-button door intercom for residential and office applications, with a luxurious design and a full HD camera. The IP One features a single backlit button for seamless user experience and is also extremely resistant to harsh environments thanks to its IK08 and IP66 protection ratings.
The 2N IP One is expected to launch in November 2023.
What are the main features of the new 2N IP One?
Superior camera performance: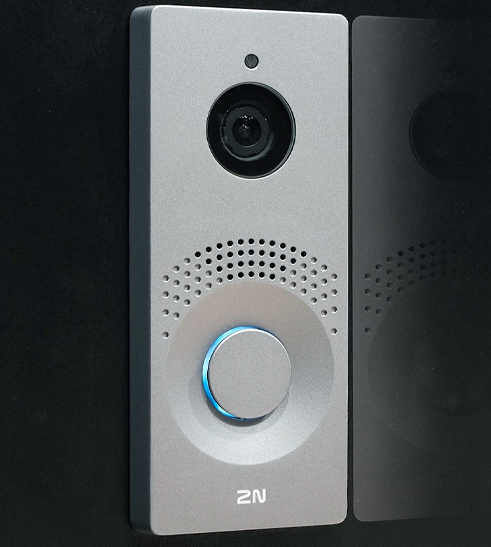 Experience exceptional video quality from the wide-angle, Full HD camera which captures vibrant colours and unbeatable clarity, even in challenging lighting conditions, thanks to the WDR-capable lens and high-performance Axis ArtPec-7 chipset.
QR code temporary access key:
The 2N IP One intercom the added convenience of QR code reading, granting temporary and single-use access key credentials for service and delivery staff etc.
Backlight call status indication:
Variable backlight indicator provides clear call status to the visitor.
Crystal clear audio quality
New high performance, on-board loudspeaker design ensures crystal clear voice quality.
Robust and resilient housing:
Built to last, even in the harshest of physical and weather conditions, this small and elegant smart doorbell device is certified to an incredible IK08 and IP66 protection rating!
Efficient storage management:
Featuring Axis high performance technology, the IP One reduces bit rate and storage requirements of Full HD video streams by an average of 50% compared to H.264. Enjoy high-quality video without worrying about excessive storage demands.
---

The 2N IP One at a glance:
New 2N IP One Intercom - in a choice of finishes: Nickel, Black or Bronze
IP-connected Door Intercom device
Backlight call status indication
Full HD camera
ArtPec-7 processor for advanced feature support
QR code access reader as standard
SIP communication protocol
Web interface administration
PoE or 12v power supply
IP66 and IK08 protection ratings

Find out more about door entry and access control...
---
Available soon from 2N UK distributor CIE-Group, the 2N IP One combines stylish design and high performance processor technology to provide and ideal smart doorbell solution for residential and office door entry applications.
For full details or to arrange a product demonstration, please contact the CIE sales team on T. 0115 9770075 or email [email protected]
---
Related Products: