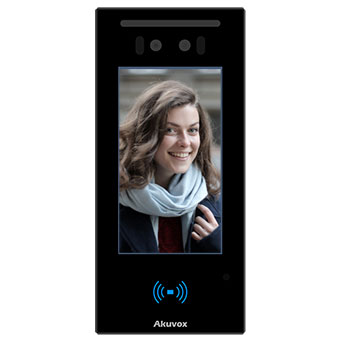 Akuvox has announced the release of the brand new E16C advanced all-in-one IP Access Control Unit & SIP Intercom fitted with a range of features including Touchscreen, Face Recognition, Bluetooth, RFID and QR Code scanner streamlining the implementation of COVID-secure contactless pathways into busy or high throughput buildings.
The Akuvox E16S provides a stylish, contactless and highly secure way to unlock doors or gateways and is ideal for both multi-tenant / multi-dwelling residential apartments, as a well as commercial / shared office environments.
This stylish combined IP Access Control Unit & SIP Door Intercom device features a large 5" HD colour touch-sensitive screen for ease of use. For improved hygiene, the E16C allows touch-free biometric authentication together with fever & mask detection.
Security
The latest deep-learning AI and dual-camera technology is employed to offer secure, touch-free verification via face recognition (including mask detection), Bluetooth BLE, RFID and QR Code scanning, supported by the Akuvox Vfone smartphone app.
Body Temperature Detection
The device's advanced biometric face recognition verification can be further enhanced for COVID-secure door access with the addition of body temperature detection scanning. Using the optional MD02 thermal scan adapter, the E16 Door Access Unit will scan users' body temperature prior to allowing access, to ensure they are not displaying fever-like symptoms linked to COVID-19.
Dual Authentication
For increased security, the Akuvox E16S can be set to require dual authentication, using a combination of any two of the device's verification technologies. For example, users might be required to verify their identity using face recognition and bluetooth from their smartphone, or a combination of face scan and QR code to access the building.
Protection Rating
The Akuvox E16C Access Control Unit is suitable for both indoor and outdoor environments having an IP rating of IP65. However, the unit is not suitable for use in exposed environments when combined with MD02 thermal detection module.
Akuvox E16C Access Unit Main Features at a glance: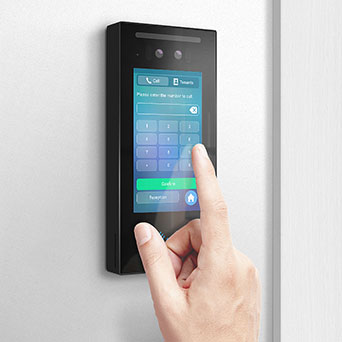 Digital Touchscreen Access Control Unit
Also functions as a SIP Door Intercom Unit
Multiple secure authentication methods: face recognition, Bluetooth, RFID and QR code scanning, PIN Code
Anti-spoofing algorithm against photo and video attack
Dual authentication for increased access security
IP65 protection rating for outdoor use
20,000 face capacity & 20,000 card capacity
Mask Detection
Body Temperature Detection (when used with MD02 - sold separately)
OSDP & Wiegand Support
Power-over-Ethernet
5 inch LCD digital colour display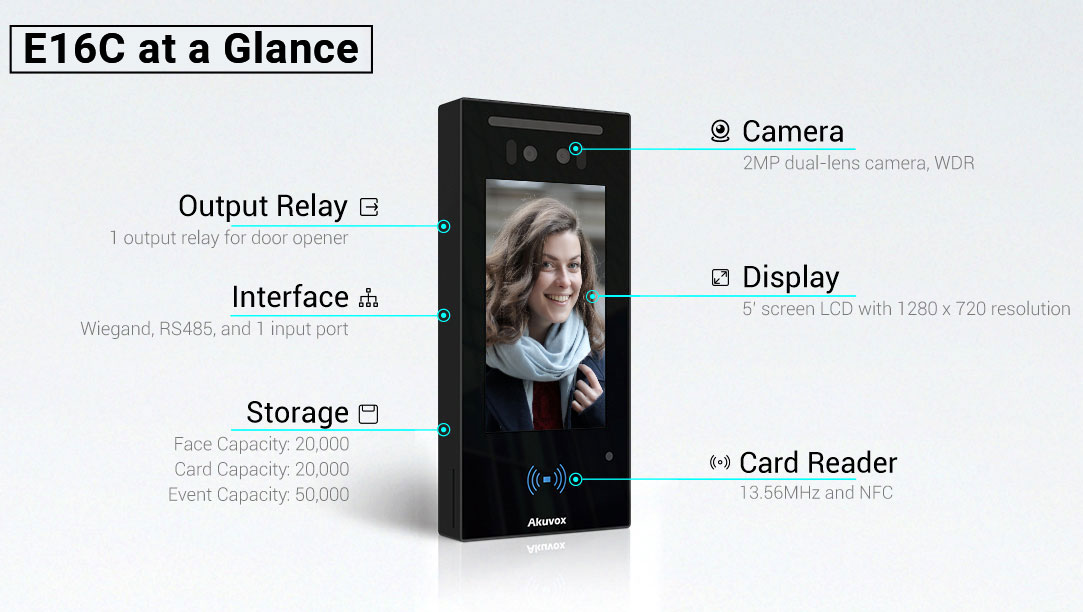 ---
Find out more...
---
Available to order now from CIE
Available now from cie-group.com, the Akuvox E16C Access Unit & Door Intercom provides the ideal solution for door entry and access control for multi-dwelling residential apartments and shared office environments and can be seemlessly integrated with the full range of Akuvox Door Intercom devices.