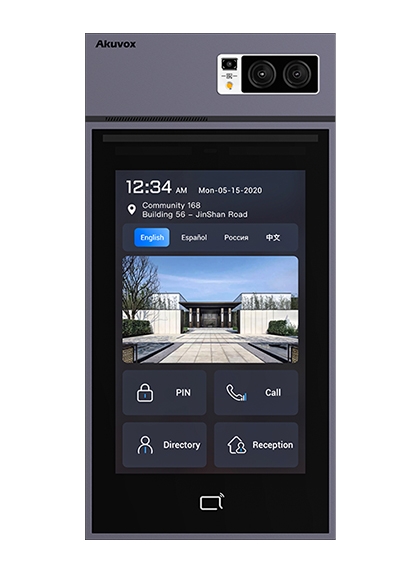 The Akuvox S539 is the latest IP Door Intercom Unit to be added to the Akuvox range.
The S539 offers a sleek design with a 10" colour touchscreen display which can be customised to suit company branding and colours. The S539 is an ideal solution for co-working office spaces, apartment buildings, gated communities and MDU's.
This flagship new smart door intercom embraces many state-of-the-art video, access and security technologies to provide a 'statement piece' first point of entry for visitor-to-resident communication, door entry and access control.
The Akuvox S539 features multiple access authentication methods:
Digital Keypad / Pin code
Card Access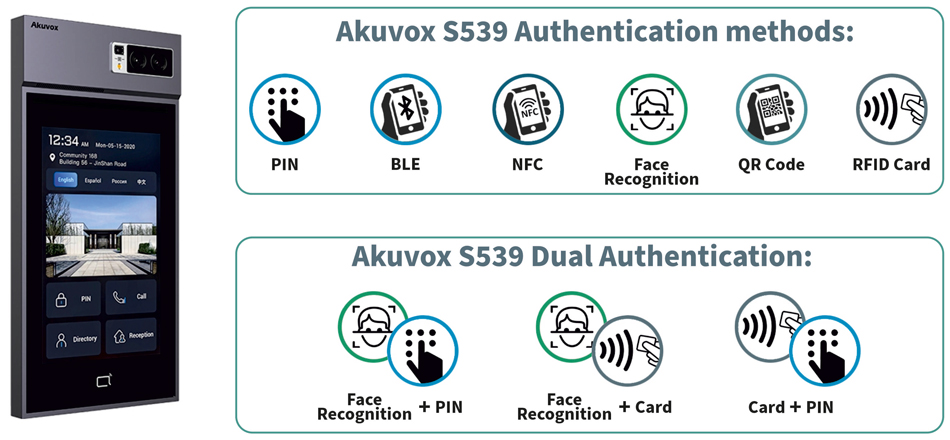 The S539 at a glance:
Main camera features built-in HDR mode to tackle a variety of high-contrast scenes
Face verification accuracy >99% ; face comparison speed
Intuitive interface with colour touch display for superior tenants/visitors/usability
Supports SIP to provide reliable voice & video communication
Complies with ONVIF standard for easy integration with any network surveillance system
Auto-night mode with LED illumination
Camera permanently operational
Echo Cancellation
Voice Activation Detection
System logs (include door access logs)
Unsurpassed number of access authentication methods:
The new Akuvox S539 has one of the widest ranges of access authentication methods in a single device seen on the current market. As well as the full range of contactless and smartphone authentication technologies (such as BLE, face recognition and QR code scanning), the S539 door intercom also supports dual-factor authentication for increased security.
Enhanced Motion Detection
The S539 boasts a highly intelligent motion detection system allowing administrators to customise detection zones, minimising unnecessary alerts triggered by passing cars or swaying trees, for example. This not only reduces the device's wake-up times but also conserves energy, ensuring efficient operation.
Integrated QR Code Camera
With the integration of a dedicated QR code camera, the S539 offers a seamless and streamlined access experience. Users can conveniently perform QR scanning and facial recognition on a single screen, simplifying the process of temporary access keys for visitors, deliveries or service staff.
Superior Starlight & HDR Camera
Experience improved image and video quality in the full scope of lighting conditions with the S539's cutting-edge starlight and HDR camera technologies. Whether it's a bright sunny day or a dark night, these advanced features deliver crisp and clear video pictures.


Find out more...

---
Available to order now from CIE
Available now from Akuvox distributor CIE-Group, the Akuvox S539 combines the best of IP intercoms and IP cameras.
For full details or to arrange a product demonstration, please contact the CIE sales team on T. 0115 9770075 or email [email protected]
---
Related Products: