---
Akuvox is the latest brand to be added to the CIE product range and is one of the leading global brands for IP intercoms, access control and telephony equipment.
CIE is happy to introduce one of the most advanced door intercom devices available on todays market, the Akuvox R29C Smart IP Intercom. The R29C/R29CB is not your average metal box and keypad door intercom device; in fact there is no standard keypad!
This smart IP intercom device is controlled via the full colour 7" capacitive touchscreen. The huge range of identifcation features are what makes the R29C/R29CB one of the most innovitative IP Intercom devices yet. These features include: pin code access, concierge call button, multi-frequency RFID card reader and digital touchscreen phone book as standard.
But what makes the Akuvox R29C Smart Intercom so unique on the market is the inclusion of secure infrared face recognition identification and QR Code access scanning.
Secure infrared face recognition identification
One of the most unique features of the R29C/R29CB is secure infrared face recognition, just like the technology used in latest-generation smart phones. The R29C/R29CB Smart IP Intercom is the very first door entry unit on the market to have this technology feature!
The facial recognition feature is hands-free making it the perfect hands-free access solution, supporting a COVID-secure contactless pathway through the building. Simply walk up to the 120 degree camera and it will recognise you (or not if you are a complete stranger)
QR Code scanning for temporary access permissions
Another unique feature of the Akuvox R29C/R29CB IP Intercom is its QR code recognition for temporary access permissions. The QR code recognition is perfect for delivery access or service engineer access.
To use this feature you simply generate a unique QR code using the Akuvox Smart Plus app. After the QR code is produced you send it to the users phone, the user then displays the QR code to the intercom camera and it will allow the user instant access to the building within the chosen time period.
---
The R29C/R29CB IP Intercom answering device supports 4 languages; English, Spanish, Chinese and French. It also features 3 different layout modes. As well as being IP65 rated for outdoor use and includes ONVIF support which allows integration with full HD CCTV camera streams. And, as with all Akuvox IP devices, the R29C can be powered via PoE or 12v DC power supply.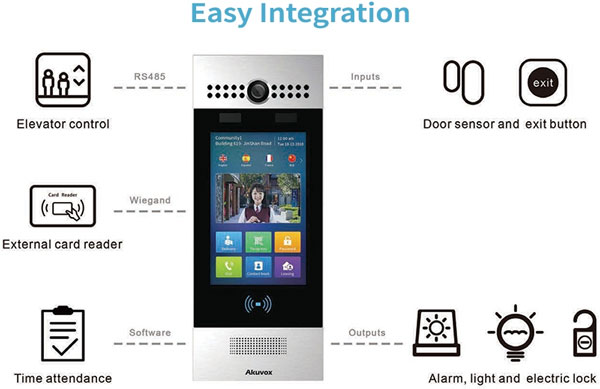 Akuvox R29C/R29CB Main Features:
7-inch large capacitive touch screen (works with gloves on)
Antispoofing face likeness detection
Premium audio and video quality
Real-time entrance monitoring
Remote door opening
Multiple access / authentication methods
Dual cameras: one 120° wide-angle 3MP camera with IR and a second VGA 60° angle 5MP camera
Flush or Surface mountable (back boxes sold separately)
QR Code Scanner for 'single use' access
Android 5.1/SIP/ONVIF/Wiegand/PoE/IP65
---
This product helps to prevent the spread of COVID-19 Coronavirus
Using a range of hands-free / contactless authentication methods, the Akuvox R29 Smart IP Intercom Series helps to prevent the spread of germs and viruses such as as COVID-19 Coronavirus.
CLICK TO FIND OUT MORE...
---
Available to order now from CIE
Available now from ciegroup.com, the Akuvox R29C and R29CB IP Intercoms provide theideal solution for office door phones with on-site or hosted IP-PBX, remote site entry over Internet, apartment / flat intercom with door access control and business information or a welcome experience for guests.

---
What is an IP Intercom system?
An IP Intercom System is a wireless stand-alone voice/video communications system often used within a building or small collection of buildings. It is a two-way communication electronic device that can transmit and receive audio and/or video transmissions.
Intercom devices are available in various styles and designs. Some of the designs are simple while others are not. Leaving aside the various designs features, there are intercom devices specially designed for specific functionalities.
---
Different types/uses of an intercom system:
Wireless IP Intercoms
When cables cannot be run, a wireless system is used.
Wired Intercom Systems
A wired system can give more privacy and eliminate possible interference from neighboring systems.
Video Intercom
A video intercom will usually include a unit with a camera, speaker, and a push button going to an entrance door, and an internal monitor unit which can communicate with the entrance unit.
Apartment Intercoms
When a visitor presses a button for the apartment they want to speak to, the tenant can then speak back and press a button to unlock the door.
Security intercom systems
Security intercom systems are used to provide voice communications between two or more locations for security purposes. Security intercom systems are commonly used between a locked building entrance door and a constantly attended location in the building.
---
Related Products: