The flagship 2N IP Style door intercom is now available with a unique antibacterial screen protector, providing even greater customer confidence for door entry and access control in high traffic areas.
The new AntiBac coating is pre-installed on these new variations of the IP Style 9157101P & 9157101P-S. The 2N antibacterial screen protector can also be purchased as a separate accessory 9157003 for integrators for retro-fitting into existing projects already featuring the 2N IP Style Door Intercom.
---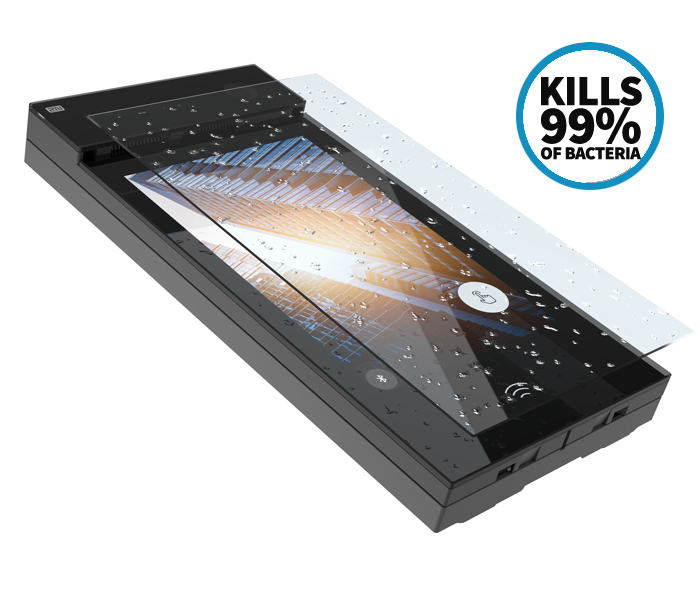 Why 2N added antibacterial screen protector feature to the 2N IP Style:
Kills 99% of bacteria and viruses within 2 minutes
Independently validated by an ISO lab
Is powered by natural light ensuring permanent protection
Eco-friendly, non-leaching surface technology
Gives the IP Style a hardness rating of 9H whilst retaining it's smooth operation of display and suppressing false touches by raindrops
How does the antibacterial screen protector kill germs?
The IP Style screen protector is a transparent, self-adhesive glass sheet which can easily be applied to the intercom device's touchscreen display. The screen protector's surface has an antibacterial coating with sunlight-activated properties to kill contaminating viruses.
Highly robust and scratch resistant, it can be cleaned with conventional cleaning products without diminishing the antibacterial properties.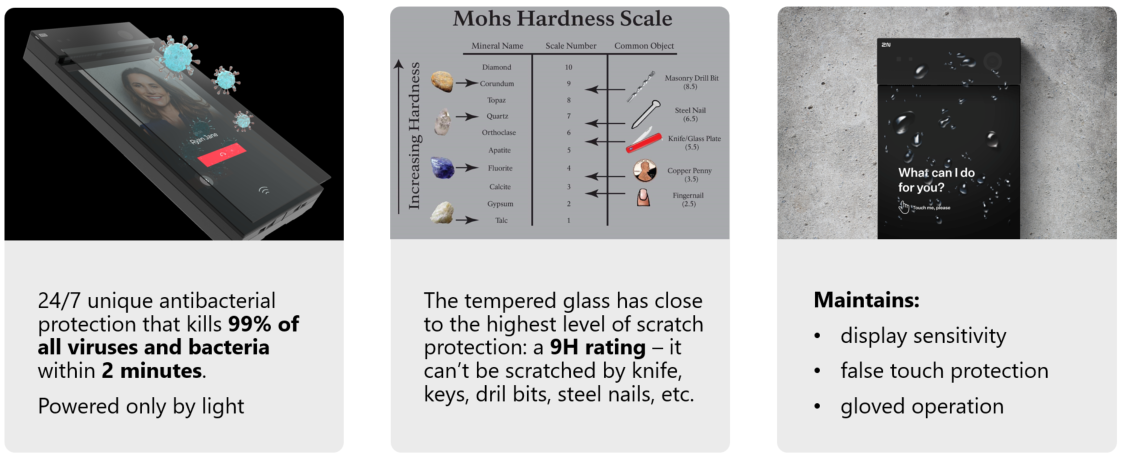 The 2N IP Style door intercom range features:
10.1″ Colour Touch Screen with high brightness
IP65 and IK08 rated for indoor and outdoor installation
Bluetooth 5.0 LE compliant
Camera features latest-generation Axis Artpect technology for wide dynamic range, high performance image quality in low light and night time
Multiple access / authentication methods: Digital Keypad & Phonebook, WaveKey Bluetooth and RFID
User interface offers options for office and residential applications
Supports SIP to provide reliable two way voice & one way video communication
Complies with ONVIF standard for easy integration with any network surveillance system
Flush or Surface mountable (back boxes sold separately)
Finish - Black stainless steel
---
Find out more...

---
Available to order now from CIE
Available now from 2N UK distributor CIE-Group, the 2N IP Style range combines the best of IP intercoms and IP cameras.
For full details or to arrange a product demonstration, please contact the CIE sales team on T. 0115 9770075 or email [email protected]
---
Related Products: