Introducing the first in the Akuvox brand new series of smart IP access control units, the Akuvox A05C is a stylish, compact Access Control Unit featuring high-profile 5" colour display and multiple verification modes to support a COVID-secure contactless pathway into the building.
Using the latest IP connectivity technology, the Akuvox A05C Access Control Unit enables secure, touch-free access via a choice of contactless authentication methods; face recognition, Bluetooth, RFID and QR Code scanning.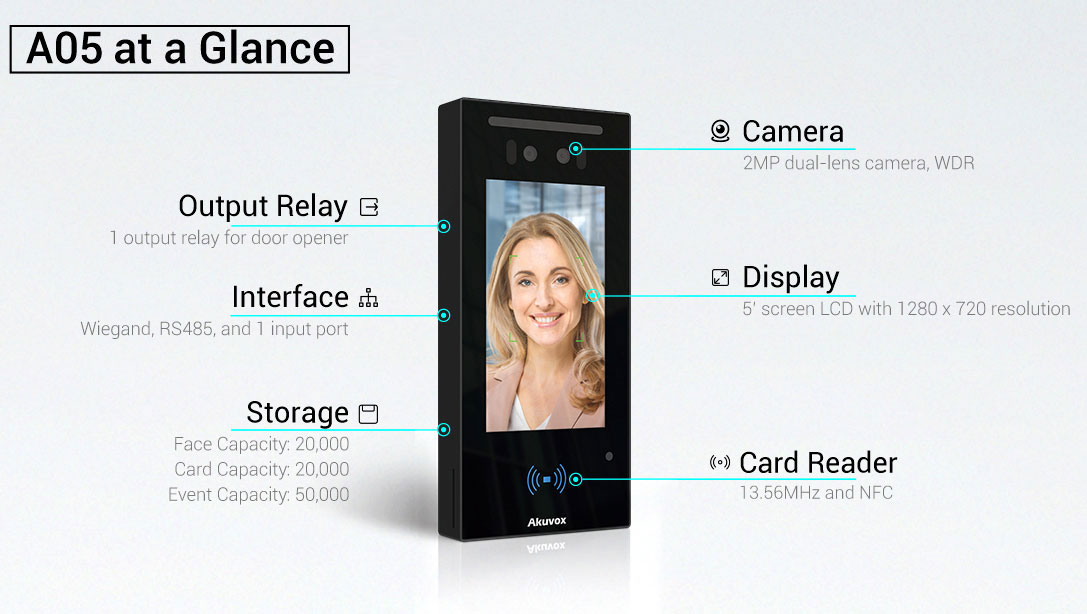 Akuvox A05C Authentication Methods
Face Recognition contactless authentication

Secure face recognition with anti-spoofing technology. Registered users simply stand in front of the A05C and its dual camera technology automatically scans their face for fast and secure identity verification and contactless entry or exit through the door.

QR Code scanning for temporary access permissions

The A05's QR code recognition is ideal for temporary access permissions - for instance for deliveries or service engineer access.

To use this feature you simply generate a unique QR code using the Akuvox Smart Plus app. After the QR code is produced you send it to the users phone; the user then displays the QR code to the intercom camera and it will allow the user instant access to the building within the chosen time period.

Bluetooth contactless authentication from smart phone

Bluetooth BLE authentication allows touch-free access directly from users' smart phones.

RFID access via card or keyfob

The built-in RFID reader allows for contactless, secure access using RFID cards or keyfobs.
---
Akuvox A05C Access Unit main features at a glance
Digital display Access Control Unit
Multiple secure authentication methods: face recognition, Bluetooth, RFID and QR code scanning
Anti-spoofing algorithm against photo and video attack
Stand-alone operation
IP65 protection rating for outdoor use
Anti-spoofing algorithm against photo and video attack
20,000 face capacity & 20,000 card capacity
Mask Detection
Body Temperature Detection (when used with MD02 - sold separately)
OSDP (Open Supervised Device Protocol) Support
Wiegand support
Power-over-Ethernet
5 inch LCD digital colour display
Supports ONVIF open standard for effective integration with other 3rd party IP systems and devices such as IP CCTV cameras, NVRs, etc
---
Why use body temperature detection for access control?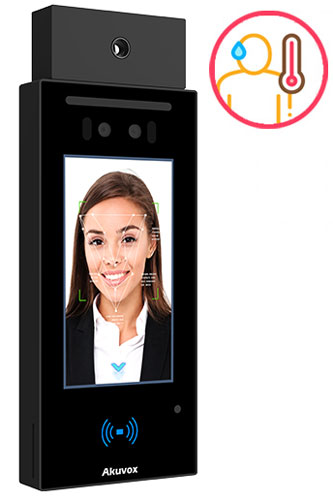 High traffic main entrances and staff access points such as hospitals, transport hubs, factories and schools are increasingly using staff resource to manually test all people entering the building for fever-like symptoms using standard handheld infrared thermometers.
As well as taking-up valuable human resource, this manual testing puts staff at further risk of virus and disease transmission.
Using the Akuvox A05C Access Control Unit with optional MD02 Temperature Measurement Module provides a fully-automated first line of defence to highlight users entering the building who may be displaying fever temperatures symptomatic of a virus. The Akuvox access system can be set to highlight a specific temperature range and, where required, deny access to anyone presenting above the 'safe' temperature range.
Applications for temperature controlled door access
Hospitals
MDUs and apartments
Offices
Schools, colleges and universities
Doctors' surgeries
Factories and distribution hubs
---
Find out more...
---
Available to order now from CIE
Available now from cie-group.com, the Akuvox A05C Access Unit provides the ideal solution for door entry and access control for multi-dwelling residential apartments and shared office environments and can be seemlessly integrated with the full range of Akuvox Door Intercom devices.

---
Featured Products