2N is one of the leading brands for professional IP connected door intercoms and access control equipment.
The 2N range of IP door entry and access devices provides secure communication and door entry for multiple dwelling units (MDUs), university and school campus, secure units and residential applications.
---
2N UK Distributor
CIE is the main UK distributor and stockist for the complete range of 2N IP Intercoms and Door Entry Systems.
Not only do we stock the full range of products, but our team of system designers and support technicians provide expert advice on product choice, system specification, system set-up and after sales service.
Our team is unique in the industry in the levels of support we offer to our customers, recognised by 2N themselves who recently presented CIE with 2N Distributor of the year - Solution Provider Award.
We work in close partnership with 2N to ensure ongoing product development meets the needs of our customers.
---
2N award winning IP Intercom & Access Control Systems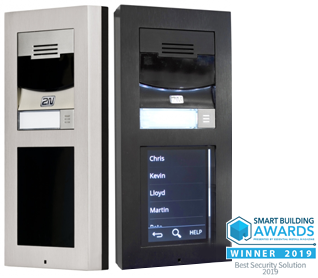 2N's innovative range of IP Intercoms, Door Phones and Access Control Systems utilise the very latest security and identification technologies, to deliver a new multi-award winning range of products. In recent years, the 2N Verso Modular IP Intercom range has gained industry-wide recognition, collecting accolades such as:
Smart Building Awards - Best Security Solution
CEDIA Awards - Best Hardware
Commercial Integrator Best Awards - Access Control
Red Dot Product Design Award
CIE were recently presented with 2N Best Performing Distributor of Answering Units Award. Having also been presented with 2N Distributor of the Year, 2019 saw CIE recognised for their outstanding performance in Indoor Touchscreen Intercoms, used in many of the UK's leading multi-dwelling (MDU) projects.

CIE in 2018 presented with 2N Distributor of the Year 'Solution Provider Award' for our innovative approach to value-added distribution, focussing on service and solutions for major projects.
---
The 2N Intercom and Access Control product range
2N is one of the security and AV industry's leading providers of IP-connected door entry and access control systems, developing high quality, secure and stylish devices and systems both for commercial and residential applications.
Continually developing their range of innovative, professional products, 2N offer a huge range of IP-connected and analogue door intercoms, IP access control devices, touchscreen answering panels and audio-over-IP solutions.
Click on the links below to view the full 2N product range, or contact our business development team for more information, product demonstrations and product/installation training.
---
Click to download more information on the 2N IP Intercom and Access Control range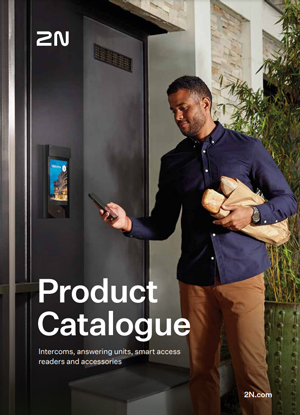 ---
Need help with an upcoming project using 2N products?
CIE's AV experts offer a wide range of added-value services above and beyond the expectations of many other distributors including; System Design, Product Specification, Wiring Diagrams, Rack Design & Build, System Configuration, Training and Onsite/Remote System Support.
Our customers can access any or all of these services - many of which are totally free-of-charge - on a project by project basis; benefitting from increased skill levels, specialists in new technologies & integration or simply to increase your resource for pre- and -post sales support.
Where to buy 2N Intercoms in the UK
If you would like to discuss your next Access Control / IP Intercom system or would like more information on the latest 2N products, please call our team today on: 0115 9770075 or email us now: [email protected].

---
Featured Products:
Access Control Readers | Apartment Intercom Systems | Video Doorbell Intercoms | Video Intercom System for apartments