Our team of AV and technology experts can provide a custom training session to meet your needs at our new training facility in Nottingham.
The training course on Video-over-IP is a hands-on course with lots of practical sessions. Attendees of the training will leave knowing the ins and outs of IP networks and having the confidence to easily install and control video transmission products to achieve the highest quality levels.
Ideal for Professional AV integrators/installers.
---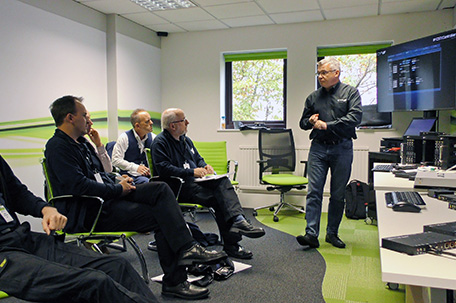 Course Content
This course provides a comprehensive understanding of Video-over-IP technology and installation and how to achieve the best results when integrating video. Most importantly the course covers how to troubleshoot a Video-over-IP installation as well as having the knowledge to understand and discuss this new technology in project meetings with client IT departments.
The session offers a balance of structured presentations, interactive demonstrations and hands-on Q&A to cover everything you need to know about Video-over-IP.
---
Attendee Achievements:
Understand the framework of networking using the OSI model.
Understand the basic concept of Ethernet to transmit 4K video signals.
Understand the complex interactions that happen in an Ethernet installation.
Understand what IP is, its importance and where it fits into a system framework.
Ability to practically troubleshoot IP issues as they arise in the field.
Understand Multicast technology and its counterpart layer-three protocol IGMP (Internet Group Management Protocol).
Ability to identify strengths and weaknesses of Video-over-IP distribution, such as point-to-point and one-to-many video distribution applications.
---
Contact us about your enquiry for CIE custom training courses below