To achieve 4K UHD video transmission via HDMI, you have to use a Premium High-Speed HDMI Cable. The statement as laid out by the HDMI Forum who designed the specification states, it is required that all true high speed HDMI Cables are tested to ensure they support the full 18Gbps bandwidth from the HDMI 2.0b specification, with an EMI test to ensure cables minimise interference with wireless signals. Cables that do not meet these specifications and are then used in 4K UHD installations might experience a drop in video quality at best and signal interruption at worst. To ensure you receive the whole 4K UHD experience, it makes sense to start with the right cables in the first place.
What is the XA-3P?
The XA-3P is an essential device for any installers tool kit, with the XA-3P you can test every aspect of the connected HDMI cable, this includes it's integrity and whether it is capable of passing the required 4K UHD data rates of up to 18Gbps. The XA-3P feature-set includes system analysing, cable testing, pattern generator and EDID management. It also includes scaling function which enables the user to down-scale a 4K UHD source to 1080p in Analyser Mode.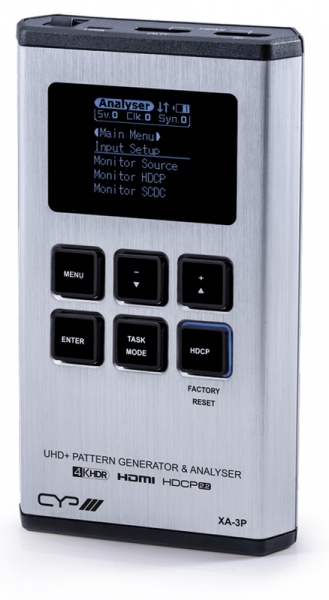 The XA-3P Main Features:
• 4K UHD + Pattern Generation
• HDMI 2.0 Cable Testing Capability
• Portable (rechargeable battery included)
Available to order now from CIE
Available now from ciegroup.com the CYP XA-3P.
---
---
Featured Products
---