HDMI
HDMI also known as High Definition Multimedia Interface is a commonly used word in the AV industry and the most frequently used cable in homes connecting devices such as digital TV, Sky, DVD player etc with the TV / display screen.
CIE's Howtoav.tv has a whole host of videos and blogs on HDMI, which format to choose, how to get the most out of your signal and many more. Click the links below and find out more.
---
Shortcuts
What is HDMI?
Which HDMI cable do I use / which HDMI cable is best?
Are expensive cables better?
Do premium HDMI cables make a difference?
Is there a standard HDMI cable?
Can HDMI cables fail?
What do I do when there is no video signal?
How far will a HDMI signal travel?
Is interference going to affect HDMI signal?
How do I extend an HDMI signal?
How to embed audio onto a HDMI signal
Why is my HDMI signal dropping out?
How to receive HDMi signal on laptop/PC
---
HDMI (High Definition Multimedia Interface) is the most frequently used HD signal for transferring both high definition video and audio over a single cable.
It is used both in the commercial AV sector and is the most used cable in homes connecting devices such as digital TV, DVD player, BluRay player, Xbox, Playstation and AppleTV with the television.
More and more home AV devices are being connected using this simple, effective cable, but now HDMI is also featuring on laptops and PCs and therefore becoming the standard for the corporate and commercial markets – for education, presentation, digital signage and retail display to transmit high quality audio video siganls from device to device.
---
Which HDMI cable do I use and which HDMI cable is best?
There are various standards of HDMI cable types plus a special cable certification designation. Each cable is designed to meet a particular performance standard therefore depnding on what the HDMI lead is being used for factors into which HDMI cable to use.

Standard HDMI Cable - Designed to handle most home applications and tested to transmit 1080i/720p video – HD resolutions commonly associated are: cable TV, digital broadcast BluRay players and video games consoles.


Standard HDMI Cable with Ethernet – Offering the same AV transmission performance as Standard HDMI Cable (720p or 1080i video resolution), plus a dedicated data channel otherwise known as the HDMI Ethernet Channel for device networking - eg. smart TV and IP control AV devices.


High Speed HDMI Cable - Designed and tested to support video resolutions of 1080p and more, including display technologies such as 4K UHD, 3D and Deep Colour. This is a recommended cable if you are using any of these technologies or connecting your 1080p display to a 1080p content source e.g. a Blu-ray Disc player.
High Speed HDMI Cable with Ethernet - Offering the same video transmission performance as the High Speed HDMI Cable (1080p video resolution and more), plus a dedicated HDMI Ethernet Channel for device networking.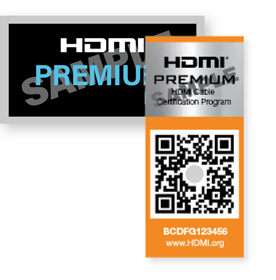 Premium High Speed HDMI Cable and Premium High Speed HDMI Cable with Ethernet - Special certification designations for High Speed HDMI Cables that have been designed/certified for reliable performance for 4K and UltraHD. This includes advanced features such as HDR, 4K60, expanded colour spaces including 4:4:4 chroma sampling and BT.2020. They have low EMI and identify them by HDMI Licensing Administrator's Premium HDMI Cable Certification Label for authentication verification.
---
Are expensive cables better?
Inside an HDMI there are 19 individual wires connected to 19 pins, these are designed for specific jobs but are essentially bits of metal that are designed to conduct an electric/digital signal. There is no processing within the cable. This means that the signal will either work or it won't. There's no need to spend lots on a HDMI cable; however likewise, don't go too cheap as explained in HowToAV's 'Are expensive HDMI cables better?' video...
Premium HDMI cables use superior materials, improved wire management in terms of how each pair is twisted and soldered and added shielding to minimise Electro Magnetic Interference. Fundamentally, a basic high speed cable untwists the internal pairs before termination whereas the premium cable is twisted and soldered right up to the pin. As we see more and more UHD content coming to our screens, we're going to find Premium HDMI cables become the new standard for high bandwidth 4k UHD video transmission.
---
Is there a standard HDMI cable?
No, there are actually only 3 categories that you should be aware of; Standard, Highspeed and Premium.
Standard HDMI Cable - is perfectly suited to support resolution outputs such as Sky HD 1080i 50 Hz 8-bit 4:4:4.
Highspeed HDMI Cable - is guaranteed to deliver 3G 10.2 Gbps video transmission or resolutions such as 4K UHD 60 Hz 8-bit 4:4:4. However you must be mindful of cable distance when delivering these types of resolutions and keep them under 7m. But it is advised to keep to 5m where possible.
There are some general guidance on HDMI cable distance limitation and a whole host of technical and environmental factors that can affect the performance of your HDMI signal/cable and therefore, the distance your signal will transmit.
We always recommend testing your HDMI cables and devices prior to installation. But after installation there are additional factors which may affect the signal performance:
Resolution / Bandwidth
Transmission distance
Interference (from other electrical/electronic devices or cables
A simple test to check if your HDMI cable is exceeding the distance of your AV system is simply to temporarily move your devices closer together and reconnect the system using (tested!) shorter HDMI cables.
If the signal fault has gone, then you need to consider a better quality or high speed HDMI cable.
Alternatively, you could try a HDMI Repeater to improve the signal or a HDMI Extender Kit which allows HDMI signals to be transmitted over distances of 40-100metres.
Can HDMI cables fail?
Brand new things don't always work straight away out of the box meaning it could be that the cable is not working. Or the HDMI cable has failed or been damaged. The most common course for a problem is a bad connection between the HDMI cable and the device. This is common if you are plugging and unplugging the cable regularly. A simple HDMI cable tester might tell you if the cable is wrong or you can simply try another cable and hopefully this will rectify the problem and give you the image that you need.
What do I do when there is no video signal?
If your HDMI audio video signal is faulty, not working or repeatedly dropping out - then don't panic! - there's probably nothing drastically wrong. It could be something as simple as a loose connection on the back of the AV source device, or just a simple cabling issue. Here are some of the top tips to fix a HDMI fault: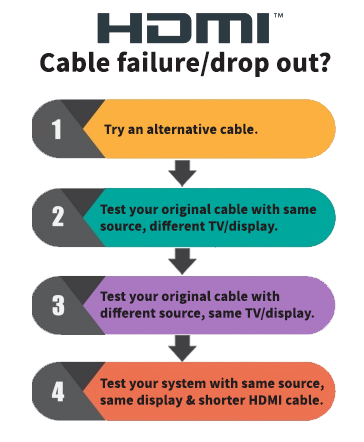 Check there isn't a loose connection on either the Source or Display end of the HDMI cable.
Try disconnecting and reconnecting the HDMI cable at each end.
Check the obvious! Is the Source device (eg. DVD / BluRay player) switched on?
Try changing HDMI channel inputs on your display - there may be an issue with either the EDID or HDCP 'handshake'.
Is the HDMI cable itself faulty? Try an alternative HDMI cable.
Try altering the resolution - the display device may not be capable of supporting the resolution the Source is trying to deliver.
If the HDMI cable distance is longer than 10 metres, then it may be worth considering a HDMI Repeater or HDMI Extender kit.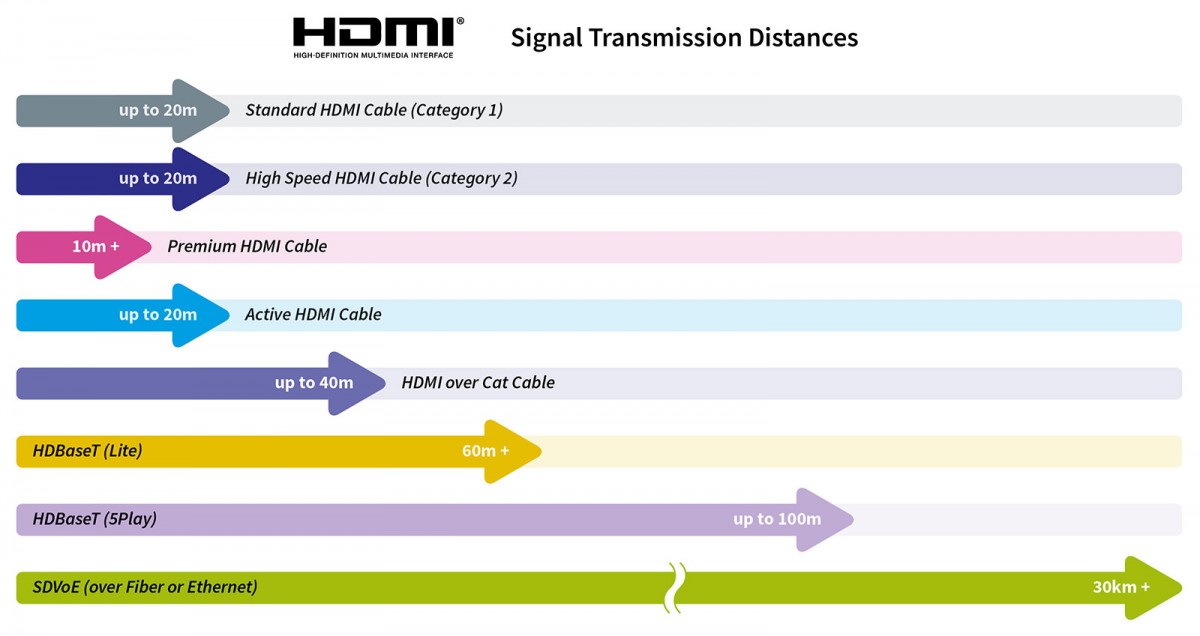 We take a look at the distance limitations siganl transmission over standard Category 1 and Category 2 HDMI cable.
HDMI Category 1 - also referred to as Standard HDMI cables will easily reach up to 5 metres without any problems and in ideal conditions will transmit over distances of up to 20 metres.
But remember! - before running any longer cable distances through walls or ceilings, etc - test your system first! Use the exact Source-Cable-Display (plus any additional devices such as video switches, splitters etc) to confirm the system works befor installing.
For a signal that needs to travel further than 5 - 10 metres, a higher grade HDMI Category 2 (or High Speed) cable is recommended and will successfully achieve a signal distance of up to 15-20 metres.
It is also designed to support transmission of 4k UHD, 3D and Deep Colour video signals.
Is interference going to affect HDMI signal?
Good quality HDMI cable is built to deal with interference. However, in 'noisier' signal environments (for example, within a highly populated rack, or adjacent to electrical cables or other electrical devices, HDMI cable can still be susceptible to interference and additional shielding might benefit. Additionally, the longer the cable run, the more susceptible the HDMI signal is to interference.
It's worth noting that as HDMI is a digital signal, one of the most common results of interference is intermittent signal drop-out.
With recommended transmission distances of just 5 to 10 metres (20 metres at very best) over standard HDMI cable, getting your HDMI Source signal to the Screen can often seem a challenge. But their are a number of devices and technologies out there - from simple HDMI equalisers and repeaters, to the latest in HDMI over Ethernet or Fiber - that can increase your signal transmission distances to hundreds of metres!
How to embed audio onto a HDMI signal
Though HDMI carries both video and audio signals simultaneously of course, there are certain (commercial) applications where you might need to embed an alternative audio signal (think sports bars showing sports TV channel but playing music from a different source, for example). We look at how HDMI audio embedders offer a simple solution.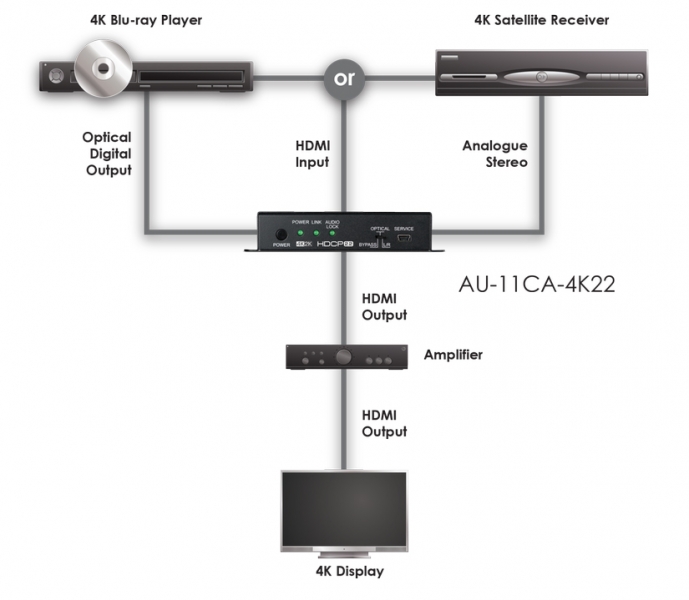 To embed or insert audio signal an audio inserter or audio embedder can be used. An audio to HDMI inserter device features a HDMI input and various audio inputs. For example, an audio embedder device may have an optical input and two RCA sockets for an analogue audio signal. The device then embeds the required audio signal over the incoming HDMI signal and then sends this out as a combined signal via the devices HDMI output. This can then be connected to the display device, a simple television or a larger AV system.
There are a whole host of reasons why a seemingly good HDMI signal can drop out without warning. We take a look at a number of reasons for HDMI signal drop-out and provide a checklist for fault-finding on your system.
If your HDMI audio video signal is faulty, not working or repeatedly dropping out - then don't panic! - there's probably nothing drastically wrong. It could be something as simple as a loose connection on the back of the AV source device, or just a simple cabling issue.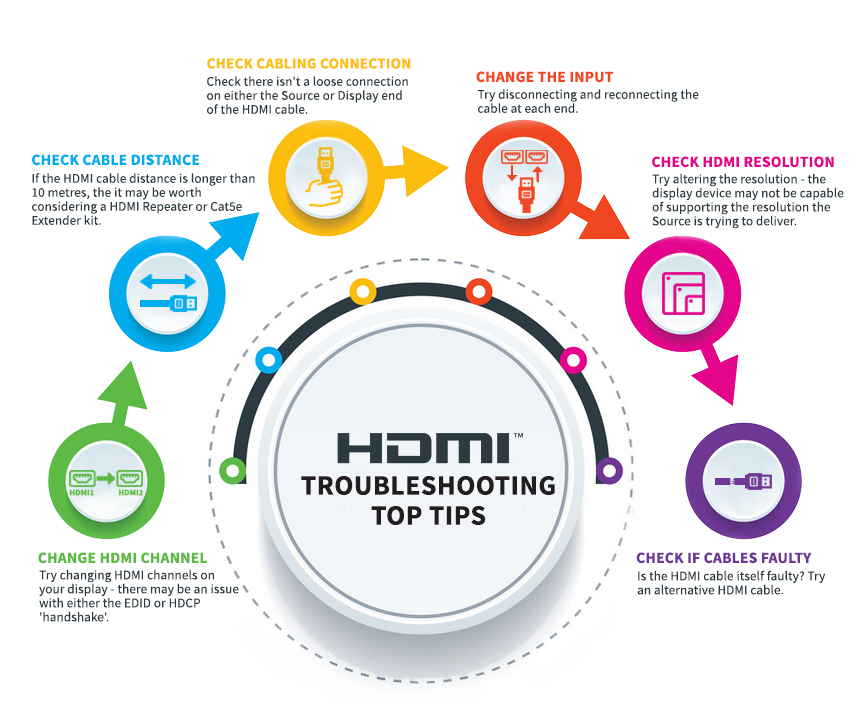 Though the majority of latest edition PCs and laptops now on the market feature a HDMI output (a relatively recent standard addition), so many legacy PC devices will only feature a VGA video output – or perhaps DVI if you are lucky.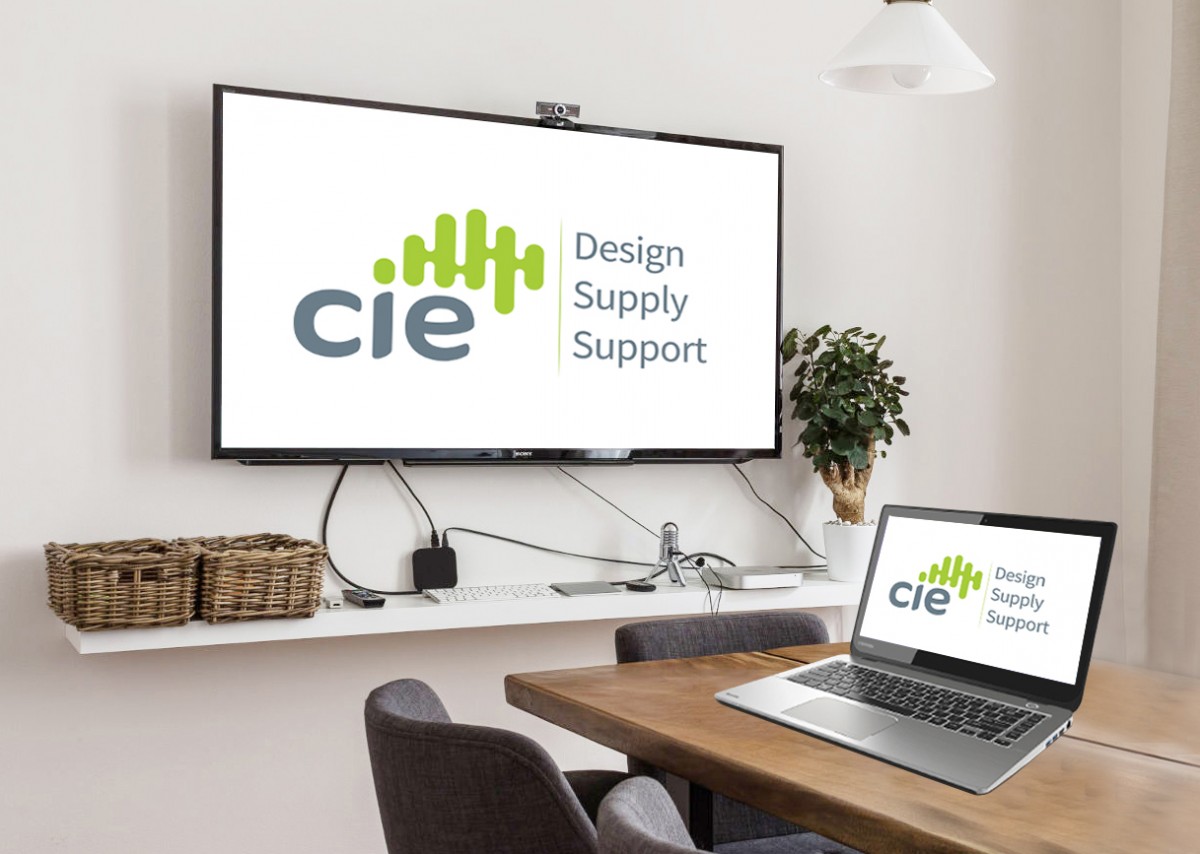 If you are looking to connect your legacy PC or laptop to a modern HD screen – which may only offer HDMI inputs, or if your TV/screen's VGA connector is already connected to a different video source, or you need to connect your VGA output PC to a HDMI switcher or matrix; then you are going to need to connect your analogue VGA signal to a digital HDMI signal. The solution to this is simple enough – you're going to need a 'VGA to HDMI Converter' also known as 'PC to HDMI Converter'. There are a huge range of professional and consumer devices available on the market – some which are also capable of converting component or composite analogue signals to a digital HDMI output. With regards to converting VGA, it's important to remember that a computer's VGA signal is VIDEO ONLY, the audio signal is on a separate output. HDMI of course is a combined video and audio signal and so a VGA to HDMI converter will allow the VGA and audio signals to be inputted separately, but will then combine the two as a single output from the HDMI.

A professional analogue to digital converter, won't just combine and convert the signals, but will also provide scaling of the video signal to ensure the best video performance on your HD display. So you need to be looking for a converter which can support up-scaling of your VGA signal to 720p and 1080p resolutions. So whether you're connecting your PC or laptop to your HD television or integrating PC data into multi-screen, multi-channel High Definition digital signage system – a simple analogue to digital converter makes light work of the job for you.
---
Need help choosing the right HDMI product or with your AV system design?
CIE is one of the UK's leading and most innovative professional AV distributors and is a leading provider of AV signal and HDBaseT professional systems and devices.
With over 50 years experience in supply and system design for many of the UK's largest, high profile audio projects, our AV experts provide a unique level of technical support and customer service.
Call the CIE AV experts now on T. 0115 9770075 or email us at [email protected]