C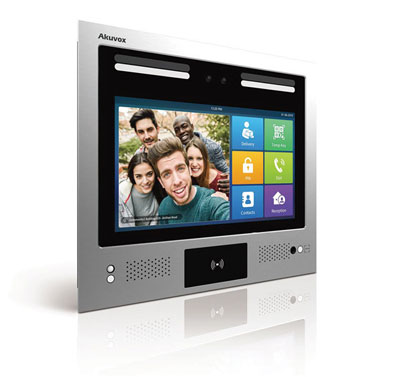 IE is pleased to introduce the latest flagship door entry communication device from Akuvox - the X916S smart touchscreen intercom. It is designed to impress and hold pride of place in high-profile residential and commercial main entrances and lobbies.

This smart IP intercom device is controlled via the large full colour 13.3" capacitive touchscreen. With a huge range of identification features such as: secure face recognition scanning, concierge call button, NFC contactless, multi-frequency RFID card reader and digital touchscreen phone book as standard. As well as these security features the X916S can also connect to residents' smart phones via the Akuvox Smartplus App.

The scale and user-friendly interface of this device means that it really stands out at highend doorways, MDU or office main entrances and lobbies, effectively providing a 'virtual concierge' to residents and visitors.
With IP65 and IK06 protection ratings, the Akuvox X916 can even be safely used outdoors - and the inclusion of the latest 'starlight' camera technology ensures that high quality video performance can still be achieved even in ultra-low light environments.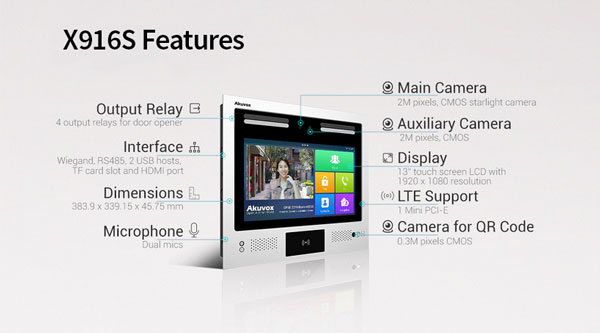 ---
Main features of the Akuvox X916 Multi-tenant Video Intercom:
Large capacitive touchscreen
The X916S features one of the largest, most eye-catching colour touchscreen interfaces of all door intercom systems on the market. Ideal for exclusive/high-end reception areas and lobbies.
High resolution colour video calls
High quality video calls between residents and visitors via 3MP HDR camera. Connect the X916S to Indoor Touchscreen Intercoms in each apartment office of communicate / unlock doors for access remotely via smartphone using the Akuvox SmartPlus App.
Temporary virtual access keys
Provide temporary, limited-time virtual access keys to visitors (such as service teams or deliveries) using PIN codes or QR codes generated for the Akuvox SmartPlus App.
Secure face recognition
Using highly-secure AI technology, the X916S provides access authentication via hands-free face recognition (similar to that found on latest generation smart phones).
Reduced cabling installation
As an IP-connected intercom device, the X916S intercom interface provides significant reductions in cabling installation - only requiring a network connection (for data and PoE) and door-strike for access control. Reduces installation time, cost and complexity.
Third-party device and platform integration
Featuring the latest Android 9.0 platform and IP connectivity allows the X916 to be easily integrated with a wide range of third-party systems and automation platforms - such as keyless locks, lift control, lighting etc.
---

Available to order now from CIE
Available now from ciegroup.com, the Akuvox X916S IP Video Intercom is an eye-catching, user-friendly and secure solution for mulit-resident apartment blocks and office receptions and lobby areas.
For full details or to arrange a product demonstration, please contact the CIE sales team on T. 0115 9770075 or email

[email protected]
---
Related Products: