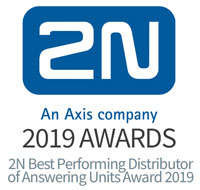 During this year's 2N Partners' Meeting, leading UK distributor CIE were honoured to be presented with the '2N Best Performing Distributor of Answering Units Award'.
As one of the most innovative distributors in the professional AV and security industry, CIE have lead the way in true value-added distribution, focussing on service and solutions for major projects.
Click here to see some of the latest 2N answering units

Having last year been presented with 2N Distributor of the Year, 2019 saw CIE recognised for their outstanding performance in Indoor Touchscreen Intercoms, used in many of the UK's leading multi-dwelling (MDU) projects.
---
Recent MDU Projects using 2N Door Intercoms
---
2N has recently launched the latest versions of their leading touchscreen door intercoms - the Indoor Touch 2.0. Featuring more powerful hardware than the previous Indoor Touch models (now up to 4 times more powerful!), a newly-designed user interface for faster, simpler use and now integrating with an even wider range of home automation platforms; the Indoor Touch 2.0 sets a new standard in integration and performance for residential and professional door intercoms.
Related Products: