The new and improved 2N Indoor Touch 2.0 is now available to order from 2N UK distributor CIE.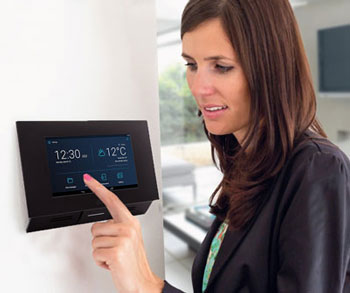 These latest Indoor Touch 2.0 versions now feature more powerful hardware (up to 4 times more powerful than the previous Indoor Touch version 1), as well as a specially-designed user interface/navigation, which even inexperienced users will find easy to use.
The Indoor Touch 2.0 also features video messages on an answering machine. This means visitor calls are now answered even when no-one is at home! A recorded message is played to the outdoor intercom asking the visitor to leave a message. The recorded message also includes a video from the door unit.
There are two different versions of the Indoor Touch 2.0, one with wifi and one without. The wifi version offers easy network connection via WiFi - meaning no additional network point needs to be installed.
Both versions of the Indoor Touch 2.0 are available in either black or white and are the proud winners of the red dot design award. The award-winning design and appearance of the Indoor Touch 2.0 will suit any household and to keep it in great condition, the unit features toughened 4mm tempered glass to prevent it from being scratched or damaged.
Ideal for use in apartment complexes, home automation systems, modern interiors, large villas and high specification office environments.
Click on the links below for full product details:
Main features of the 2N Indoor Touch 2.0:
A clear, easy to use home screen
Video messages on an answering machine
Android 6.0 hardware operating system
Durable 7" HD touch screen
Integration with home automation systems
Easy connection via WiFi
Attractive, award-winning design
High-quality sound without ambient noise
Support of a doorbell button

---
---
What is an IP Intercom system?
An IP Intercom System is a wireless stand-alone voice/video communications system often used within a building or small collection of buildings. It is a two-way communication electronic device that can transmit and receive audio and/or video transmissions.
Intercom devices are available in various styles and designs. Some of the designs are simple while others are not. Leaving aside the various designs features, there are intercom devices specially designed for specific functionalities.
---
Different types/uses of an intercom system:
Wireless IP Intercoms
When cables cannot be run, a wireless system is used.
Wired Intercom Systems
A wired system can give more privacy and eliminate possible interference from neighboring systems.
Video Intercom
A video intercom will usually include a unit with a camera, speaker, and a push button going to an entrance door, and an internal monitor unit which can communicate with the entrance unit.
Apartment Intercoms
When a visitor presses a button for the apartment they want to speak to, the tenant can then speak back and press a button to unlock the door.
Security intercom systems
Security intercom systems are used to provide voice communications between two or more locations for security purposes. Security intercom systems are commonly used between a locked building entrance door and a constantly attended location in the building.
---
Related Products: