dormakaba is a global leader in Access Solutions offering a comprehensive portfolio of services within security and access for rooms, buildings, hotels, shops, sporting venues, airports, hospitals, in the home or at the office.

Where to buy dormakaba in the UK
CIE is a UK distributor for the dormakaba door locking and access control range.
---
Multihousing access control solutions
Intelligent building automation creates a modern living experience.
dormakaba RFID smart locks Community Access Management Software and integrator partnerships enhance the living experience by integrating access control with:
Energy management
Resident communications
Visitor management
Parcel storage and online deliveries
Video
Automation as an amenity
Smart apartments require connectivity. Working together with our integration partners, we make the connection with smart home devices to provide property-wide access and automation.
Smart access adds multiple levels of flexibility for any building. For property managers, smart building access technology gives unparalleled oversight as to what's happening in and around the complex.
Trust dormakaba for innovative technologies to offer access solutions for every application.
Open the door to smart technology
We have a proven track record of understanding and solving the complex challenges of controlling building access. dormakaba aim to provide customers with smart solutions to create a safety-forward culture and make access in life smart and secure.
---
The connected residence
Get connected with dormakaba for smart controlled access to all openings - living spaces, amenities, common areas and property perimeter.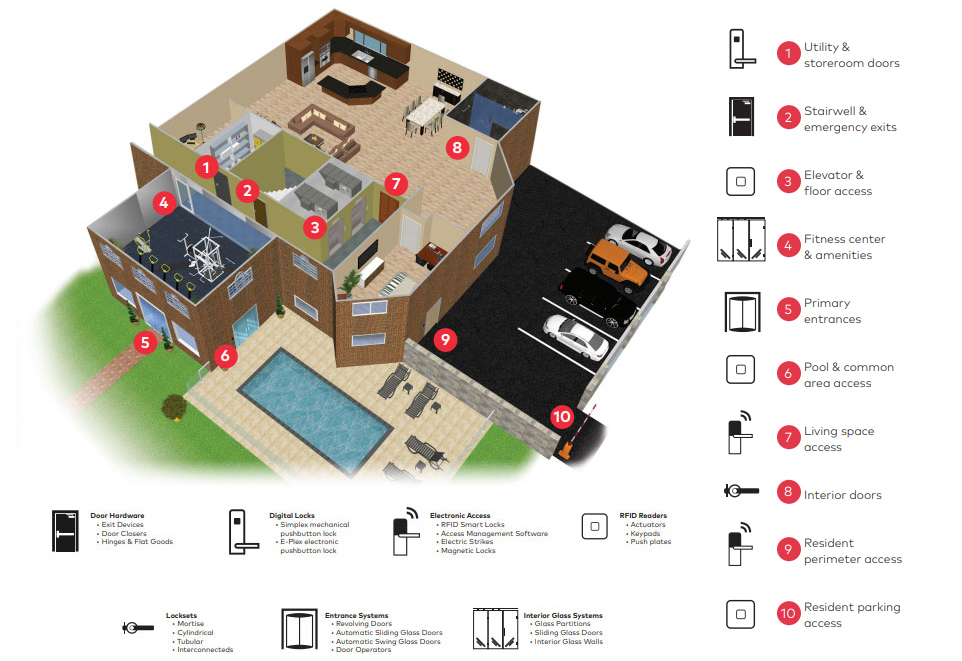 ---

Contemporary design with security in mind
The dormakaba Saffire LX Smartlock Series features RFID technology in a contemporary design. Easy-to-use, flexible and secure, multihousing properties have the option of issuing mobile, fob, wristband or card access credentials.
Saffire LX smartlock offers a suite of smart solutions that combine high-performance with aesthetics that harmonize with progressive building technology and amenities.
BLE mobile keying capabilities
Scalable for future growth
BHMA Grade 1 mortise lock
Low maintenance as the lock operates with a completely sealed, contactless reader
2 year battery life
Complete Solution complements exit devices, parking gates and electronic access.
---
Make mobile access a reality— simply and securely
dormakaba BlueSky Mobile Access Solutions
Convenient, reliable and secure for both the property and resident, BlueSky is an end-to-end mobile credential application utilising Bluetooth Low Energy (BLE). BlueSky seamlessly integrates with the property's electronic locking system providing a state-ofthe-art, cloud-based platform to securely issue and manage keys on smart devices. Mobileminded residents simply download the app to simplify access and stay connected with facility-based IoT.
Capable of being deployed across multiple properties
iOS & Android compatible
Available at the App Store
Ability to purchase mobile credentials on demand as residents request
Stay connected with facility-based IoT
RFID Credentials make access smart
RFID Credentials make access smart
Convenient and cost-efficient, smart credentials are easy-to-use and hard-to-lose. From convenient fobs and contactless RFID cards with sophisticated information storage capability to mobile access solutions,dormakaba has the credential to suit individual resident needs.

---
dormakaba Community Access Management Software
Community is the next generation Access Management Software solution specifically developed for multihousing properties.Community empowers property managers to intuitively authenticate and manage authorised access to residences, common areas and control perimeter access points throughout an entire property to improve security and operational efficiency ensuring a seamless living experience.
Flexible Deployment
Community offers web-based access from a desktop computer, laptop or mobile device while on the property's network. Property configuration and access management of residents, staff and vendors can be programmed anywhere, at any time, 24/7.
Easy resident, staff, vendor and property management
Convenient mobile access for residents
Accurate reporting - print, view or download all data
Integrates with property management systems

---
Need help with an upcoming project using dormakaba?
CIE's security experts offer a wide range of added-value services above and beyond the expectations of many other distributors including; System Design, Product Specification, Wiring Diagrams, Rack Design & Build, System Configuration, Training and Onsite/Remote System Support.
Our customers can access any or all of these services - many of which are totally free-of-charge - on a project by project basis; benefitting from increased skill levels, specialists in new technologies & integration or simply to increase your resource for pre- and -post sales support.
Download the latest dormakaba brochure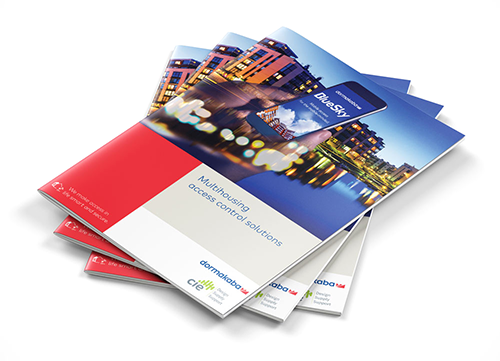 ---
Where to buy dormakaba in the UK
If you would like to discuss your next Access Control / IP Intercom system or would like more information on the latest dormakaba solutions, please call our team today on: 0115 9770075 or email us now: [email protected].
---
Featured Products: