Location: Salford, Greater Manchester
Client: Ordsall Hall
Integrator: Saville AV
Client: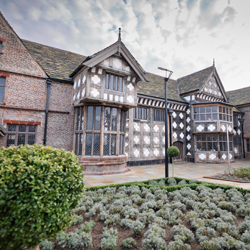 Dating back over 600 years, Ordsall Hall is Salford's 'hidden gem', one of the finest examples of an Elizabethan black and white half-timbered manor house.
System Requirements:
In order to preserve the historic building and enhance visitor's experience, Salford Hall called upon Saville AV for a presentable solution.
The Solution:
To recapture the atmosphere of the period, costumed Tudor characters act as visitor guides, now using a new Chiayo portable audio system supplied by Saville AV.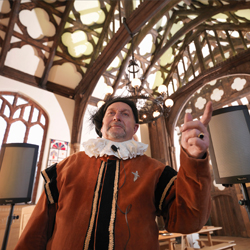 For addressing larger groups in the fully-furnished Great Hall and throughout the building, Chiayo's lightweight and portable UHF PA systems have been introduced, providing quick and easy set-up of high quality wireless voice reinforcement and background music.
The units feature integrated loudspeaker, amplifier, UHF wireless microphone receiver, CD player and recharegeable battery and have been supplied with UHF handheld micophones and loudspeaker stands - fully wireless and fully portable for use in any of the many rooms throughout the building and outdoors in the surrounding gardens and grounds!