Location: Bridge Street, Leicestershire
Client: Nottingham Community Housing Association
Client: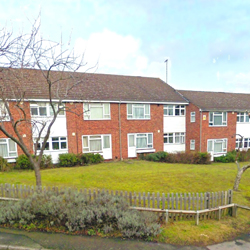 NCHA Bridge Street (Nottingham Community Housing Association) is a Leicestershire-based supported housing project helping people with mental health needs to live independently in the community.
System Requirements:
Providing tailored support to adults living in their own tenancy, the on-site management office requires high levels of privacy and confidentiality to allow support workers to discuss each individual service user's needs.
However, with only thin walls and doors between the offices and main corridor, the Bridge Street Project Manager was becoming increasingly concerned about the potential for service users and visitors to overhear private discussions in the corridor which should remain within the confines of the office.
The Solution:
When Bridge Street Project Manager Michelle Edwards contacted CIE-Group asking us to suggest a solution, our sales engineers carried out a site visit along with installers Midlands Communications and recommended a Sound Masking System, based around our new TSD-GPN1200 - part of the new Atlas Sound 'Time Saving Device' (TSD) range.

Distributed into the public corridor area using an InterM MA106 Mixer Amplifier connected to 3 i-ceilings BP4500 Sound Panel loudspeakers (which provide broader area sound coverage), the resulting system provides a constant but unobtrusive 'Pink Noise' frequency (similar to the sound of an air conditioning unit), which 'masks' the voices from the offices, making them unintelligible to passers by or anyone who may try to listen in to the meetings from outside the offices.

The NCHA Project Manager and Support Workers are now able to discuss confidential issues in the offices, confident that their voices cannot be overheard in the adjoining spaces of the building.

TECHNICAL SPECIFICATION:
- Atlas Sound TSD-GPN1200 Sound Masking Generator
- InterM MA106 Mixer Amplifier
- i-ceilings BP4500 Surface Sound Panel Loudspeakers
- Clever Little Box SLA100 Volume Control