Location: Ayr, Ayrshire
Client: Heathfield Primary School

Client: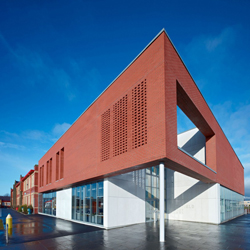 Heathfield Primary School is situated in the historic city of Ayr, a large town and former Royal Burgh on the west coast of Ayrshire in Scotland, United Kingdom.
System Requirements:
A modern and contemporary architectural appearance has been proposed for the new Heathfield Primary School extension formed around an approach of simplicity in form and materials to deliver clean, crisp, elegant lines which ensures a modern and contemporary architectural appearance, contrasting and complimenting the original Victorian school.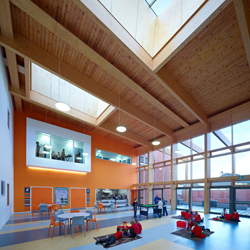 With the new developments in the architecture, a new AV system followed with the need to deliver messages accross the board in the school which offers information to students.
The Solution:
Completed just in time to celebrate the launch of a £4m refurbishment project of Heathfield Primary School in Ayr, a 4 screen output Luminis AiO Digital Signage system now takes pride of place in key areas of the school.
Following a one-day on-site User Training Session for school and South Ayrshire Council staff, CIE-Group designed and completed a branded template to be displayed in public areas such as reception, library and canteen areas.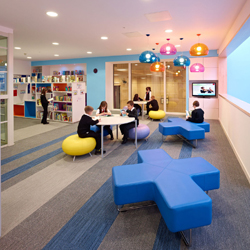 A single Luminis AiO Digital Signage box drives the output to all four areas through a VGA splitter and VGA-over-Cat5 video distributor.

The Digital Signage System provides a public display of pupils' recent projects and artwork, publishes latest achievements and school news, as well as menu lists throughout the week. All content is managed inhouse by administrative staff from their desktops via an internal network.