Location: Glasgow, Scotland
Client: Eastwood High School
Supplier: FES
Client: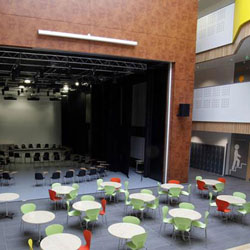 Part of the Scottish Government's Schools for the Future Project, Eastwood High School in Glasgow is a new, state-of-the-art secondary school completed for the beginning of the new school year in September 2013.
This fabulous new learning environment comprises inspiring, open-plan teaching spaces within a new teaching block, together with alterations and an extension of the existing Community Sports block and swimming pool building.
System Requirements:
Scotland's leading M&E Contractors – FES – were brought on board at the beginning of the project to manage all mechanical and electrical installation, including specification and implementation of a large scale public address and induction loop system throughout the whole school and sports areas.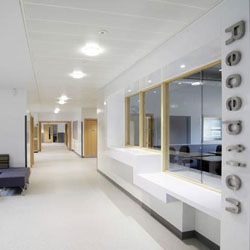 FES engaged the assistance of PA / AV specialists CIE AV Solutions to design, specify and supply a fully integrated, robust audio system which would provide zoned coverage throughout the building.
CIE's specialist audio system design team provided free consultation and design service from plan drawings to specify a complete PA and Induction Loop System based around InterM's latest DPA range of professional, multi-channel compact amplifiers and the SigNET PDA range of AFILs.
The Solution:
All amplification, audio control and loudspeakers were supplied by CIE, including two bespoke built PA racks built in-house by CIE's technical services team. The racks also make full use of CIE's own-brand Clever Little Box LB-8A Digital Audio Store, which has been integrated to provide bells, tones and messages triggered by the LEA's own class-change system.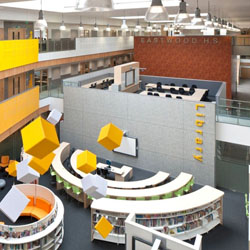 The new teaching block is predominantly three stories high with a fourth storey to the rear portion of the block, designed to accommodate 1,220 pupils.
The school design is based on a learning hub concept with the school's teaching spaces wrapped around a bright and open central atrium which combines teaching, learning, and social space.
The new indoor sports facilities are wrapped around the existing sports building which contains a swimming pool, games hall and associated changing facilities.
Together with The Lasswade Centre in Midlothian, Eastwood High School was the first exemplar secondary school to be built as part of the £1.25bn Scottish Futures Trust (SFT) Schools for the Future programme.
Products:
PA Rack Build Specification:
- CIE-Group AV Rack Design & Build Service
- InterM DPA-230DC 2 x 300W 100v Power Amplifier
- InterM DPA-430H 4 x 300W 100v Power Amplifier
- InterM PP9213 Pre Amplifier / Mixer
- Euromet 01511 12U Rack Enclosure
- CT DPM/102B Desk Paging Microphone

PA / Bell Timing Rack Build 2 Specification:
- CIE-Group AV Rack Design & Build Service
- InterM DPA-230DC 2 x 300W 100v Power Amplifier
- InterM PP9213 Pre Amplifier / Mixer
- Euromet 01511 12U Rack Enclosure
- Clever Little Box LB-8A Digital Audio Storage and Replay Unit
- Clever Little Box LCU-1A 100V to Line Level Converter
- CT DPM/102B Desk Paging Microphone

Loudspeaker Specification:
- 280 x InterM CS-6 6W 100v Ceiling Speakers
- 28 x IC Audio DAP20-130T Voice / Music Projector Speakers
- 20 x Clever Little Box SLA50 Volume Controls
- 25 x InterM WS210W Wall mount Loudspeakers

Audio Frequency Induction Loops Specification:
- 8 x SigNET IL-PL20
- SigNET PDA1000
- SigNET PDA500/2
- SigNET PDA200/2
Let the CIE AV system design team help with your next PA or Induction Loop project
CIE AV Solutions is the leading UK supplier of professional audio and PA equpiment. Our expert team of audio system designers and specifiers would be happy to assist and advise with any public address systems; please call the team on T. 0115 9770075 or email [email protected]