Location: Central London
Client: Institute of Engineering and Technology
The Client

One of London's key landmark listed buildings, Savoy Place is the home to the headquarters of the Institute of Engineering and Technology, serving a membership of over 167,000 and also hosting many high profile events for private and public functions. Savoy Place has, in fact, been voted the 'Best UK Venue Brand' for corporate events for the past 3 years.
And so, when this significant building went through a £30 million refurbishment - £1.6 million of which was assigned to AV - the audio equipment specified had to be outstanding, both in its performance and innovation.
System Requirements:

A key focus of the project was the complete refitting of The Wedmore, the largest of two boardrooms in the building and the flagship meeting space, which is dominated by the 30 seat central boardroom table which has been fully integrated into the high specification audio visual system.
For those seated around the impressive boardroom table, a small but surprisingly pleasing feature is the unexpected appearance of the automatic retractable boundary microphones which elegantly rise from their normal flush-mount position at the touch of a button.
The Solution: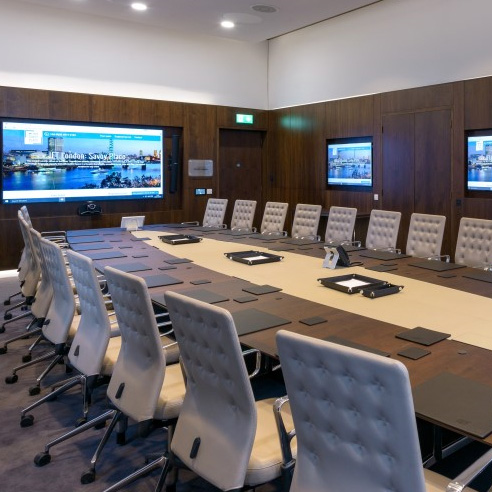 The 14 Clockaudio ARM 102-RF Boundary Microphones are motorised to rise and retract at the touch of a button, keeping the boardroom table completely flat when the microphones aren't in use, but rise out of the table when required.
The ARM 102-RF Microphones also feature Clockaudio's unique RF friendly technology offering immunity from GSM (smart / cellphones) and other sources of frequency interference.
Product:
- 14 x Clockaudio ARM 102-RF Motorised Retractable Table Boundary Microphone
Let the CIE expert team help with your next AV project
CIE AV Solutions is the main UK distributor for the Clockaudio Microphone range, supporting our customers and their clients with product specification, system design and product supply for AV, intercom and electronics. Our in-house AV experts would be happy to advise on your next project or simply discuss your needs. Contact the CIE team on T. 0115 9770075 or email [email protected]