Location: Congleton, Cheshire
Client: ABC Managed Solutions
Client: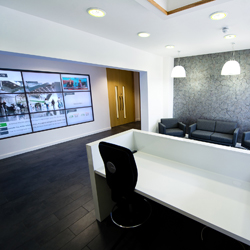 When Cheshire-based ABC Managed Solutions purchased a new three-storey headquarters in Congleton, the brief for their in-house interior design and technical services teams was to ensure that the finished environment was as much a showroom for ABC's products and services as it was a living workspace for the staff.
System Requirements:
With recent developments in their business strategy to offer clients a full range of integrated audio visual technologies, ABC turned to CIE-Group to recommend some of the latest AV technologies which could be demonstrated to clients, but would also be used on a day-to-day basis by the sales, technical and design staff throughout the building.
The Solution:
Key to the interior design of the new building was strong brand identity and visual impact; so to complement the interior, branded digital signage was specified to be displayed on an impressive 3x3 video wall from CYP, which greets visitors and staff as they enter the main reception area on the ground floor. ABC opted to use CYP's 42" Professional 1080p LCD screens with in-built video wall controllers to provide maximum visual effect.

CYP equipment was also specified for the AV distribution system in the form of two 8x8 HDMI Matrix Switchers married with PU-107 HDMI over Single CAT6 Transmitter/Receiver sets delivering HD audio and full 1080p video content to multiple zones, over three floors throughout the entire building.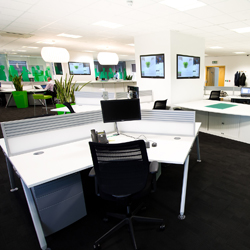 Martin Featherstone, CIE's newly appointed CYP product manager, sees the ABC HQ as an ideal showcase for the CYP product range;
"Though CYP is one of the newest ranges to join the CIE portfolio, it is already our fastest growing and most successful brand by far this year and with so many new CYP products being launched on an almost weekly basis – including a whole host of HDBaseT distribution devices – the ability to demonstrate such a wide selection of CYP products being used under one roof is a fantastic proof of the product range's capabilities."

The use of CIE-Group's vast product range wasn't limited to just AV equipment. Making the most of the CIE-Group Technical Services team's expertise in CCTV systems, ABC also installed an 8 channel digital CCTV system throughout the building to protect all their new AV gadgets! A fully interactive DVR system has been specified for surveillance and recording – all of which can of course be displayed on any number of screens throughout the building via the CYP Matrix system!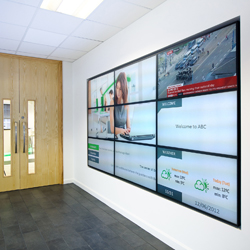 TECHNICAL SPECIFICATION:
- CYP OR-HD88S HDMI 8 x 8 Matrix Switchers
- CYP PU-106-KIT HDMI-over-CatX Extender Sets with IR Pass-Through
- CYP SY-P293 PC to HDMI Scaler Converters
- CYP DS-42A33 3x3 Video Wall System
- Clever Little Box Luminis AiO Digital Signage
- Clever Little Box AVID In-Wall Stereo Amplifier
- Pen n Fee U-BOARD Portable Virtual Interactive System