Introducing the S539 Smart Door Intercom and S567W Indoor Answering Panel, part of the new Akuvox S Series range.
---
Akuvox S539 Smart IP Door Intercom
The Akuvox S539 is a digital touchscreen door intercom featuring a 10′′ display making it a perfect addition for main entrances to premium multi-tenant projects. It is also ideal for apartment buildings, MDUs, co-working office spaces and gated communities requiring a high-profile, feature-full multi-user door entry system.
S539 features multiple access authentication methods including:
Digital keypad/pin code
BLE
NFC
Facial recognition
QR code
Card access
Akuvox S539 main features at a glance:
Main camera features built-in HDR mode to tackle high variation of light conditions
Face verification accuracy >99%
Intuitive interface with colour touch display for superior tenant/visitor usability
Supports SIP to provide reliable voice & video communication
Complies with ONVIF standard for easy integration with any network surveillance system
Auto-night mode with LED illumination
Camera permanently operational
Echo cancellation
Voice activation detection
System logs (include door access logs)
---
Akuvox S567W Touchscreen Intercom Answering Panel
The Akuvox S567W is a 10'' touchscreen door intercom answering panel that uses the latest Android 12 OS, and is equipped with Wi-Fi 6 communication technology. The S567W has dual microphones and quad speakers to provide superior audio quality. With minimalist design, the S567W fits into any modern interior environment.
With automatic adjusting screen brightness through environment sensing, voice assistant and voice changer, the S567W brings convenience and safety to the home or office environment.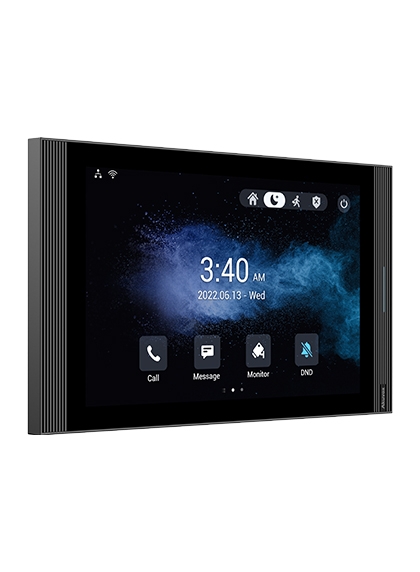 Akuvox S567W main features at a glance:
Android 12 OS
Two-way audio communication with other units in the network
Excellent audio-visual intercom experience with four integrated loudspeakers
Complies with SIP standard for easy integration in every SIP capable PBXs
Powered by PoE or external source
Automatically adjusts screen brightness according to the ambient light for comfort and energy saving
Voice Changer facility to protect vunerable residents
Built-in smart voice assistant
Echo Cancellation
Voice Activation Detection
Automatic Gain Control
---
Find out more...
---
Available to order now from CIE
Available now from cie-group.com, the Akuvox S Series range provides the ideal solution for door entry and access control for residential apartments and can be seemlessly integrated with the full range of Akuvox Door Intercom devices.

---
Featured Products