Unified platform for building management systems
In today's rapidly changing landscape, your organisation encounters evolving challenges in how it utilises its buildings. Quanika VisitorPoint offers you the ability to adapt and streamline your site management with unparalleled efficiency.
With Quanika's proven technology, you can revolutionise both visitor and employee experiences, transforming your overall operations. The Quanika solution seamlessly integrates security, safety, reception and analytics into a single, dynamic platform. VisitorPoint empowers you to stay in control, providing real-time insights into who is on-site, their locations, and the applicable access authorizations. This applies not only to your physical spaces but also extends to your corporate networks.
Fast & effective people-flow management
Quankia VisitorPoint prioritises the comfort and satisfaction of your staff, contractors and guests from the moment they set foot on site. The system ensures a hassle-free welcome every time, eliminating delays and uncertainties.
With advanced technology, Quankia provides your visitors with clear, timely information and helpful signposting well in advance. Say goodbye to the frustration of waiting in busy reception areas – VisitorPoint streamlines the process, making sure your guests are impressed even before they arrive.
VisitorPoint will enhance your organisation's efficiency
Easing pressure on front-line reception and security teams
Boosting productivity in the way your people use your facilities
Letting you flex and adapt to rapidly changing building use requirements
VisitorPoint is tailored to your needs at every site, with its powerful suite of visitor and access functions
As your organisation increasingly faces new challenges in the way it uses its buildings, Quanika VisitorPoint gives you the power to adapt and manage your sites more efficiently.
Quanika's proven technology lets you transform your visitor and employee experience – and your wider operations - by combining your security, safety, reception, and analysis functions in a single, powerful, flexible solution.
With VisitorPoint, you'll know exactly who is on site, where they are and when their access authorisations apply, for both your physical spaces and your corporate networks.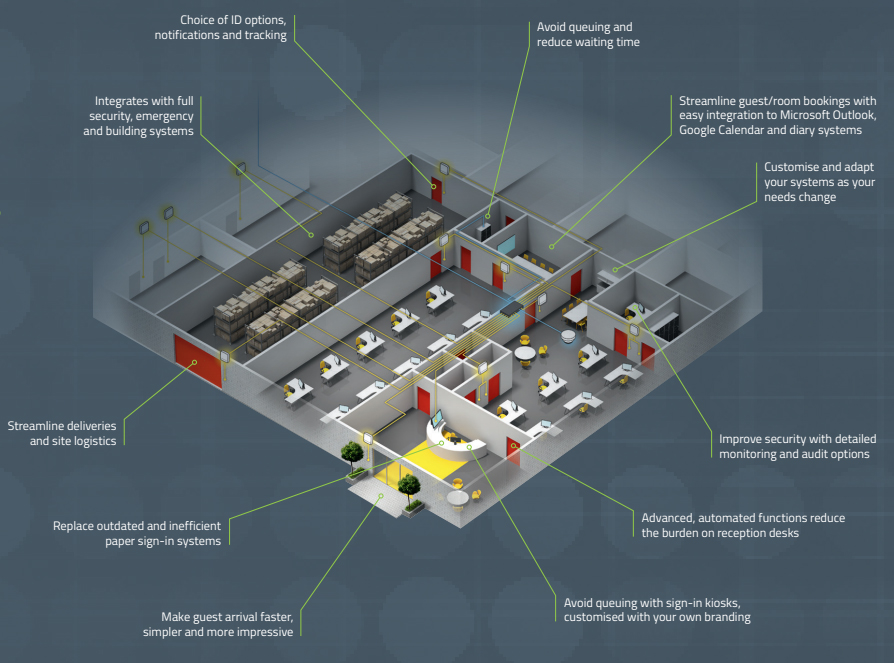 A more flexible approach to streamlining and automating visitor management
Quanika VisitorPoint offers a versatile toolkit designed to optimise operations according to the unique needs of each site. The platform seamlessly integrates with established business processes and software, including Microsoft Outlook, ensuring effortless usability for all authorised members of your management teams.
From booking meeting rooms and granting visitor access permissions to managing courtesy parking, VisitorPoint empowers your staff to take control and enhance their efficiency. This solution not only puts your people in charge but also enables your organisation to adapt to evolving workflows and building usage patterns. With the ability to automatically update access permissions from your central staff database, VisitorPoint offers unparalleled flexibility and adaptability to meet your organization's changing needs.
Experience a new level of efficiency with Quanika VisitorPoint.
How VisitorPoint can ensure smooth and efficient access:
| | |
| --- | --- |
| | Use VisitorPoint to easily book meetings (through Outlook), and send confirmations with QR codes. |
| | When a visitor arrives they present the QR code to the IP intercom and reader for rapid access. |
| | At reception, you can choose between allowing visitor selfenrolment or requiring manual ID checks before admission. |
| | The relevant host has already been automatically notified to come and meet their guest – visitors use their own QR code to gain access via AXIS Door Station. |
Ensure smooth running for complex and multi-site operations
Quanika VisitorPoint allows staff and contractors to be more easily assigned to flexible working locations – with updated, site specific information sent in advance. QR codes can be presented to access readers, video intercoms and self-service kiosks.
Meeting rooms and other facilities can be reserved and allocated, network access can be enabled, and staff can work more flexibly with more efficient scheduling.
Quanika VisitorPoint does more than just secure your premises and enhance your visitor experience, it drives up efficiency and productivity at all your locations. At a time of such unprecedented challenge and rapid change, this has never been more important.
High-level visitor security for mission-critical sites
Mission critical applications: managing contractors securely with facial recognition tracking
| | |
| --- | --- |
| | VisitorPoint is used to easily book contractors (through Outlook), and send confirmations with QR codes |
| | When the contractor arrives LPR/ANPR allows rapid access, followed by manual ID checks at reception |
| | The contractor is enrolled via facial recognition to allow movements to be tracked and reported |
Improving arrivals efficiency across all your sites
For multiple locations and branches: how VisitorPoint approvals arrivals efficiency between sites
| | |
| --- | --- |
| | VisitorPoint is used to schedule staff movements between specified locations (through Outlook), and send confirmations, with vehicle registration details, QR codes etc |
| | When staff arrive, they present their QR code to IP intercoms, kiosks or tablets for rapid access to facilities and authorised networks |
| | Meetings can also be pre-booked, rooms reserved, and colleagues notified when that staff member arrives |
| | If staff are enrolled on facial recognition, their movements can be tracked and audited |
Managing higher risks: choose the security level you need
Quanika VisitorPoint lets you set your security level exactly according to your risk, and allows you choose how your visitors are welcomed. For example, when vehicles arrive, ANPR allows first level automated identification at the perimeter, followed by driver and passenger ID checks. If required, this can be backed up by enhanced verification at reception, with facial recognition technology. And when visitors are enrolled via facial recognition, this allows their movements to be tracked and monitored around your sites, with full audit trails for verification of events.
Meanwhile when visitor arrivals to meeting only areas present lower risks, rapid but secure access can be enabled simply by scanning the pre-issued QR codes.
Automated and secure flow of goods
Easier deliveries with number plate recognition
| | |
| --- | --- |
| | VisitorPoint is used to book deliveries and collections, automating confirmations with vehicle registrations and sending associated QR codes |
| | When the contractor arrives ANPR allows rapid access, followed by manual ID checks at reception |
| | At the loading area the QR code is scanned for confirmation of the delivery or collection |
Smoother arrival and enhanced welcome for VIP visitors
| | |
| --- | --- |
| | VisitorPoint is used to easily book VIP visits |
| | When the VIP guests arrive ANPR allows priority access to site |
| | You can choose how your VIP guests are welcomed at reception, with courtesy ID checks or other verification such as facial recognition before admission |
| | Meanwhile the relevant hosts have already been automatically notified to come and greet their guests – visitors use their own QR code to gain access |
---
Download the latest Quanika VisitorPoint Brochure here: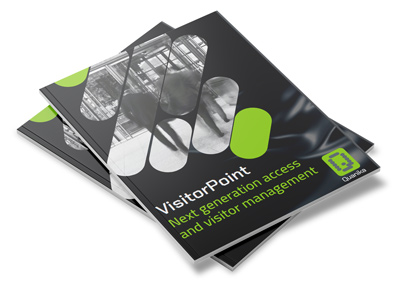 ---
Where to buy Quanika in the UK
If you would like to discuss your next Access Control / IP Intercom system or would like more information on the latest Quanika solutions, please call our team today on: 0115 9770075 or email us now: [email protected].
---
Featured Products: