September 2017 saw CIE's very own HBaseTEAM charity cycle team successfully take on its 10th annual challenge to cycle 500+ miles across France in just 3 days - resulting in an incredible £10,000 being raised for our supported charities!
As well as our annual support for Cancer Research and The British Heart Foundation, each year we choose a main charity which is close to our hearts and, this year to recognise the incredible support given to some of our team, we chose Maggie's Cancer Support Centre Nottingham.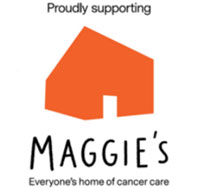 CIE sales director, Steve Collin explains; "Two of our staff have unfortunately been diagnosed with cancer and have benefitted from the incredible support of Maggie's. So for our 10th year of the cycle challenge we wanted to raise even more money in order to support this charity which we know at first hand is doing some truly great work for our team and for the local community."
In March 2018, we were lucky enough to be invited to visit the Maggie's Support Centre in Nottingham to see for ourselves how their work helps to support so many people from the Nottingham area who are affected by cancer, It was our great pleasure on the day to hand over a cheque for £5000 to help support their work.
"We would like to say a huge thank you to everyone who supported the team and, of course, to all of our sponsors who gave so generously towards these amazing organisations and the incredible work they do." added Steve.
Centre Manager for Maggie's Nottingham - Kate Martin - told us why the fundraising efforts and all your donations are so important;
"We provide emotional, psychological, social and practical support to anyone affected by cancer. We see between 60 and 100 people every day coming into our Maggie's Centre - last year we had over 15,000 visits, so we're seeing a lot of people and the Centre is doing a fantastic job.
"Fundraising is hugely important to us and we're so grateful to CIE for recognising the support we've given to their colleagues. We are so grateful to CIE for raising this money for us and we will continue to provide the high level of support that we do. Thank you guys!"
Over £40,000 raised so far by the CIE HDBaseTEAM cycle challenges
In addition to the £10,000 raised during our 2017 challenge, the CIE HDBaseTEAM have previously raised in excess of £30,000 for Cancer Research, The British Heart Foundation, Nottingham Saving Lives Helipad Appeal and local children's charity Derby Kids' Camp.
The HDBaseTEAM are sponsored by UK AV Signal Distribution brand CYP, with the team name giving a nod towards the vast range of HDBaseT products launched by CYP over the past two years.