Leading professional Door Intercom manufacturer - 2N - has revealed their latest innovation in the form of the world's first LTE-connected Door Intercom System.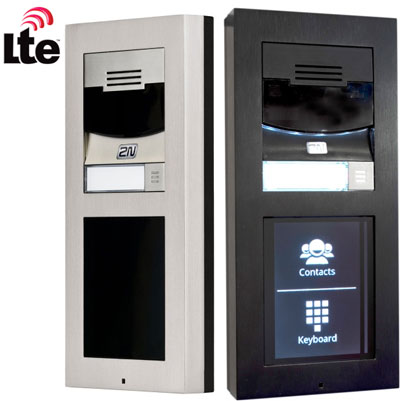 Combining the modularity and style of their best-selling Verso Door Intercom with the flexibility of LTE wireless technology, the new 2N LTE Verso is the first intercom device on the market to offer this type of wireless connectivity.
The new LTE Verso offers the full feature-set of the IP Verso range (including compatibility with all Verso Modules), whilst also offering the flexibility of LTE wireless connectivity, allowing these professional Door Intercom devices to be positioned in locations where Ethernet network connectivity is unavailable. The LTE Verso only requires power via cable.
2N LTE Verso - ideal for retofit installations
Using LTE connection, the 2N LTE Verso does not rely on Ethernet cable connection, allowing for installation of devices without the need to install additional network cables.
This also makes this unique door intercom solution ideal for locating at main gates which may be some distance away from the building, reducing additional cabling and installation costs.
Watch the launch video for 2N LTE Verso below:
Integration diagram for 2N LTE Verso:

Order Codes:
The new 2N LTE Verso is available to order now from main 2N dealers CIE AV Solutions. Click on the Order Codes below for full details.
9155401C-E LTE Verso Main Unit with camera (Nickel finish)