Happy birthday to CIE's very own HowToAV.tv!
It's been a year since the launch of HowToAV.tv, the free online training channel from AV distributor CIE. HowToAV.tv provides free, instant and accessible training materials and has proved to be a huge surprise hit with AV professionals worldwide. Just 12 months on and the now multi award-winning channel has achieved impressive viewing figures of over 120,000, attracted industry recognition and continues to grow from strength to strength.
Click to watch the HowToAV birthday video now...

HowToAV.tv was devised by CIE following the success of its free nationwide technical training seminars. Chris Edwards, Marketing Director at CIE explains, "CIE were one of the first AV resellers to deliver high quality training as a marketing tool rather than simply a revenue stream. Having delivered training to more than 400 professionals, we wanted to grow the program, our audience and our profile without the cost increasing exponentially. HowToAV.tv gave us an opportunity to introduce CIE to a wider audience, allowing our brand to compete with some of the biggest players in the AV distribution sector."
With new technologies emerging all the time, it can be difficult for professionals to stay on top of the latest AV developments. This is where HowToAV.tv comes into its own.
Limited to easily digestible three to five minute videos, information – delivered by AV industry experts - can be accessed at any time, from anywhere, via a smartphone, tablet or computer. Content is aimed at all levels of experience to solve everyday challenges such as "Connecting Apple TV to an Analogue Amplifier" as well as tackling bigger training themes such as "Understanding HDCP 2.2 for 4K UHD". The wide range of informative and unbiased videos offer instant solutions to technical issues, installation advice and technology tutorials - all delivered in a user-friendly, vibrant style.
"So many AV professionals have embraced the channel."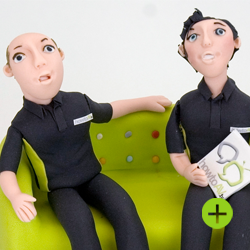 "We knew HowToAV.tv was a great concept and this has been confirmed by the fact that so many AV professionals have embraced the channel." comments Chris Edwards. "We've had really positive feedback from the industry and in particular professionals that use the channel as an accessible, credible and trusted reference tool when on site, or training their own teams."
To keep the channel fresh, HowToAv.tv is also interactive. AV users and professionals are encouraged to submit a training theme request or query via a comment or direct message, to which HowToAV.tv will always provide a response. Often it will also create a video to fulfil the request; in fact, many of the videos are in response to educational requests from the audience for a collaborative approach.
"A global viewership from over 200 countries."
AV professionals have embraced HowToAV.tv, and to date the channel has amassed an impressive 140,000 video views, and boasts almost a quarter of a million minutes of footage watched. The channel has a growing following and currently has over 1,500 dedicated subscribers, with a global viewership from over 220 countries. There are over 100 videos live on the site, with more being added on a weekly basis to keep content industry-relevant and up to date.
With regular contributions from respected industry voices, as well as professional advice from HowToAV.tv's expert in-house team, this innovative channel has established itself as a credible source of up to the minute AV training material and information.
So, what does the future hold? In the near future there will be a new HowToAV.tv blog and some very exciting industry collaborations. Longer term, CIE have ideas for other 'HowTo' channels on a range of subjects. Watch this space!
See the latest AV videocasts and subscribe to the channel now at www.HowToAV.tv