The Akuvox E12 SIP Smart Doorbell has been announced as a winner of the GOOD DESIGN AWARD 2022.
The GOOD DESIGN AWARD is a movement aimed at enriching peoples lives and society through design. Since starting in 1957, it has been commonly known together with the "G Mark", the symbol of winning the award.
GOOD DESIGN AWARD has been awarded to various objects surrounding us, including industrial goods, architecture, software, systems, services and so on. No matter tangible or intangible, GOOD DESIGN AWARD will take it as design, evaluate and honour its quality, as long as it is created to fulfill certain ideals or purposes.
---
The Akuvox E12 SIP Smart Doorbell is a highly-compact, single call button, IP-connected Door Intercom, featuring high resolution colour camera and RFID card reader for swift, secure remote audio/video communication and door entry.
Using the latest IP connectivity technology, the E12 Doorbell enables visual monitoring and one-to-one voice communication between residents & visitors and secure remote access. It is ideal for multi-dwelling units (MDUs), apartments, entrance gates and unmanned office receptions.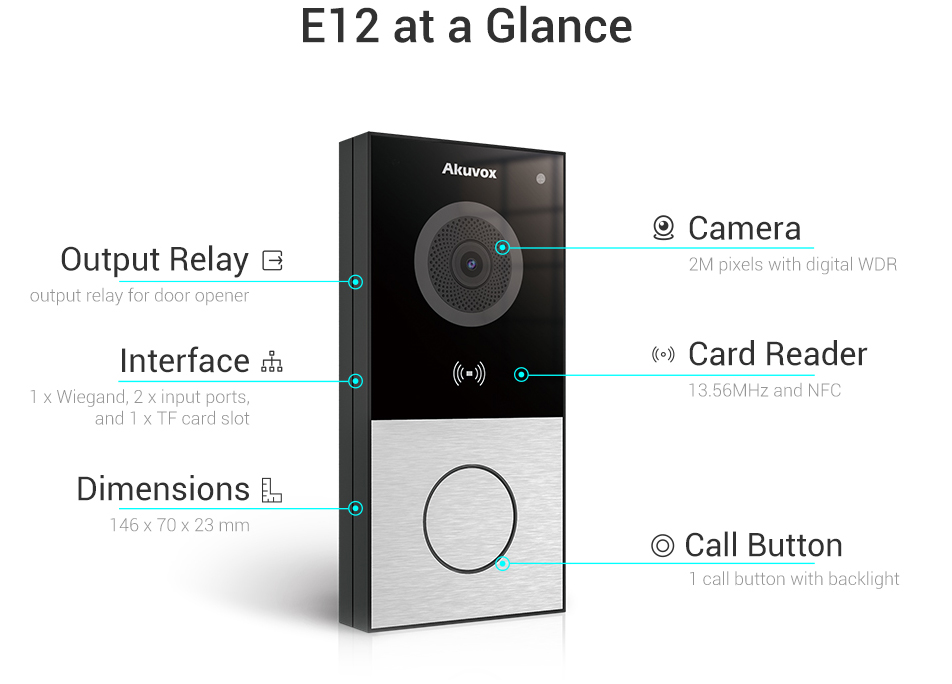 Akuvox E12 main features:
IP connected Door Intercom
Single Call Button (illuminated)
Integrated RFID Card Reader
Access Control authentication via RFID or Bluetooth BLE
IP65 rated for indoor & outdoor applications
WiFi network connectvity
Wide-angle camera: Horizontal 123º, Vertical 69º
Two-way audio communication over IP networks with Echo Cancel feature
Easily integrates with SIP Systems
Power supply via PoE or adapter
Finished in black plastic and brushed aluminium

Available to order now from CIE
Available now from Akuvox UK distributor CIE-Group, the Akuvox E12 SIP Doorbell.
For full details or to arrange a product demonstration, please contact the CIE sales team on T. 0115 9770075 or email [email protected]
---
Related Products: