Introducing the Akuvox Smart Security System using Zigbee connectivity range of wireless smarthome and smart security devices.
The Akuvox X933-H Indoor Intercom Answering Panel is a premium door access / communication intercom featuring 7" full-colour touchscreen. This X933H model features Zigbee connectivity for integration with the whole range of wireless connected smarthome and smart security devices.
The X933H can be used as a smart home centre and provides HD audio and video communication via SIP 2.0 protocol and can work with Zigbee devices via Zigbee 3.0.

Range of Akuvox Zigbee-compatible wireless devices and sensors include:
---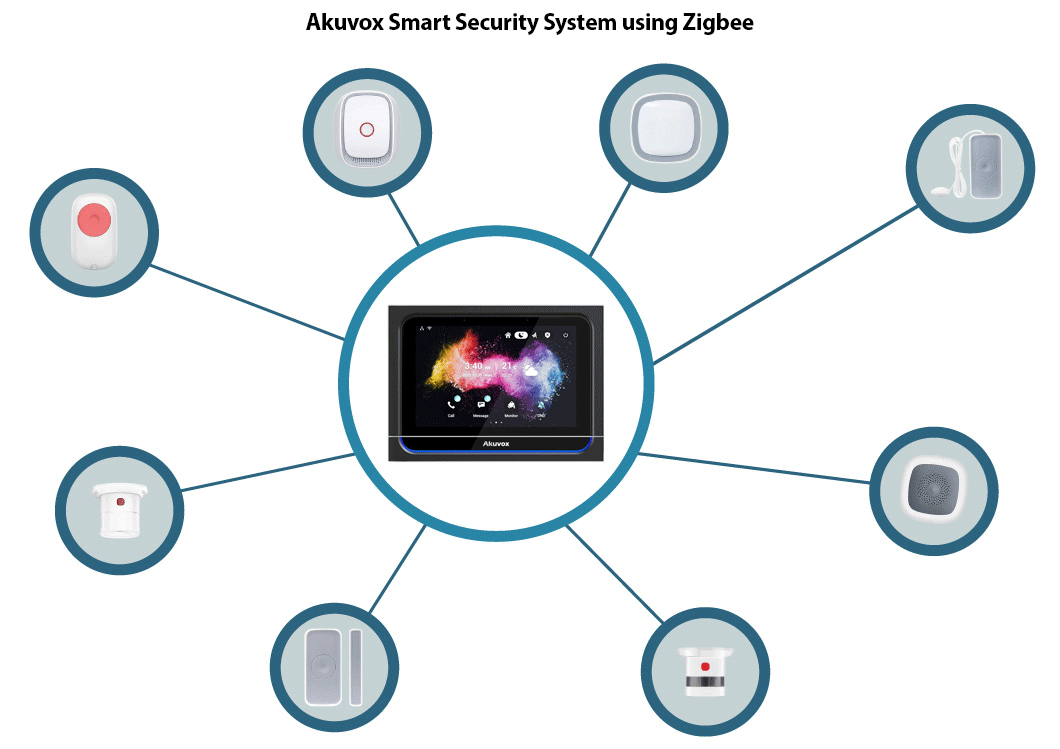 ---
What is Zigbee?
The Zigbee protocol has been around for more than a decade, and is considered as an alternative to standard Wi-Fi and Bluetooth for low-powered devices that don't require a lot of bandwidth such as smarthome sensors.
How does Zigbee work?
Zigbee does not focus on point-to-point communication like Bluetooth it operates; in a mesh network, which is why it is ideal for the smart home.
A mesh network functions as a network connection spread out among wireless nodes. These can then communicate with each other and share a network connection across a large area. Nodes are essentially small transmitters that function in the same way as a wireless router. Zigbee's ability to support mesh networking means it can boost data transmission range and provide greater stability (even when a single connected node fails and isn't functioning).
Supported housing smart solutions

Research strongly suggests that smart technologies can have significant benefits to residents' health and wellbeing - and this is particularly pertinent to elderly, vulnerable, unwell or disabled people living in remote or supported housing.
Smart building monitors - such as the Akuvox X933H smart system - can provide discreet 24/7 environment monitoring; allowing residents their independence and privacy, whilst ensuring family, friends or support staff can monitor their home for safety and comfort.
As well as monitoring day-to-day environmental factors such as temperature and humidity, a smart home monitoring system can provide alerts and emergency alarms over the network, either to PC or smartphone should any of the sensors detect a problem such as smoke alarm, gas leak or potential flooding.

---
Find out more...
---
Available to order now from CIE
Available now from cie-group.com, the Akuvox Smart Security Range provides the total home security system and can be seemlessly integrated with Akuvox access control and door intercom systems.

---
Featured Products