Introducing the latest addition to their IP intercom range, the Akuvox R20B SIP Intercom is a compactvideo door phone featuring 5 Call Buttons and Nameplates and is ideal for large residencies and small apartment and MDU projects.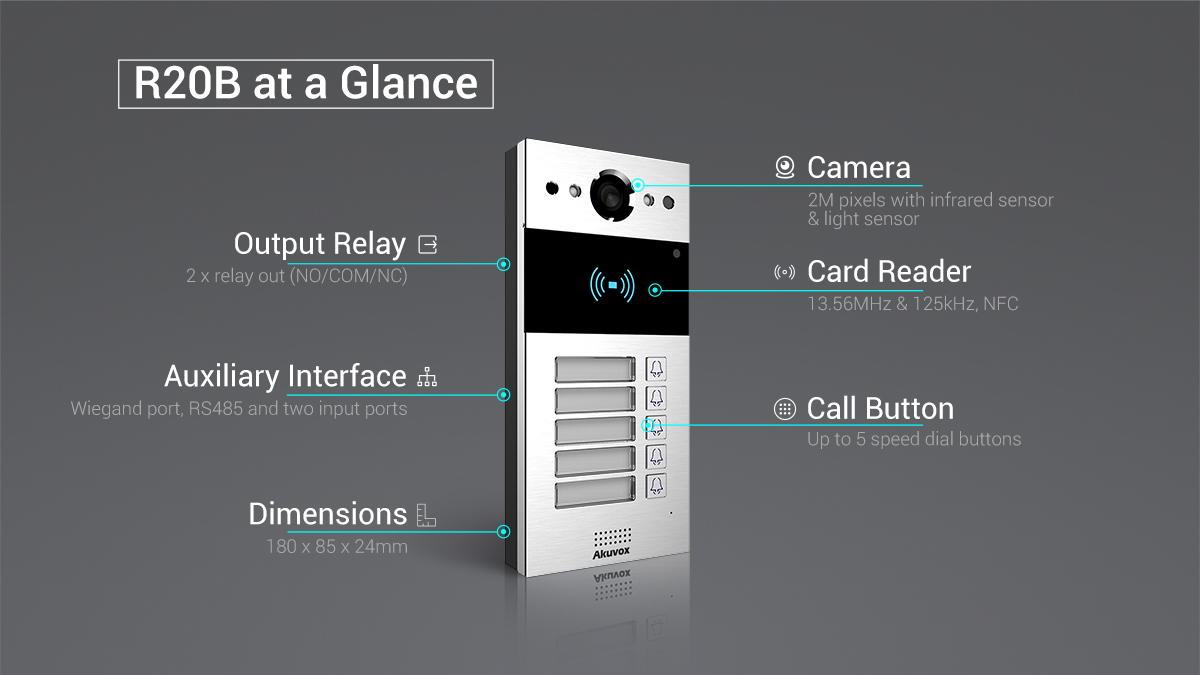 Using the latest IP connectivity technology, the Akuvox R20B enables visual monitoring and one-to-one voice communication between residents & visitors and secure remote access, making it ideal for multi-dwelling units (MDUs), apartments, entrance gates and unmanned office receptions.
The built-in RFID reader allows for contactless, secure access using RFID cards or keyfobs. The Akuvox R20B also has an IP65 protection rating allowing for internal and external location.
Akuvox R20B Main Features at a glance
IP connected Door Intercom
5 Call Buttons with Nameplates
Wide-angle camera: Horizontal 120°, Vertical 65°
Integrated RFID & NFC authentication
IP65 protection rating
PoE (IEEE802.3af, Power-over-Ethernet)
Two-way audio communication over IP networks with Echo Cancel feature
Complies with SIP standard for easy integration with SIP capable PBXs
Complies with ONVIF standard for easy integration with any network surveillance system
---
Available to order now from CIE
Available now from cie-group.com, the Akuvox R20B provides the ideal solution for office door phones with on-site or hosted IP-PBX, remote site entry over Internet, apartment / flat intercom with door access control and business information or a welcome experience for guests.

---
Featured Products