CIE are pleased to announce a new UK distribution partnership with Akuvox. Akuvox is one of the leading global brands for IP Intercoms, access control and telephony equipment. The recently signed agreement adds a new dimension to the CIE security portfolio thanks to the Akuvox cutting-edge security technology at an affordable price!
"We're really looking forward to introducing Akuvox products to the UK market," says Chris Edwards, Marketing Director at CIE Group. "We think the range fills the gap in the market for products that push technology boundaries and provide real value for money. The R29C is a case in point, being one of the first door entry systems to use facial recognition technology. This represents an exciting leap forward and Akuvox, with its competitive pricing, has managed to put the technology in reach of the mass market."
Ivy Chen from Akuvox continued: "Getting the right distribution partner is a really important part of the jigsaw when launching in a new territory. Being able to tap into CIE's UK market knowledge, vast experience and multi-award winning team, puts us in an excellent place for a successful launch phase and beyond."
Click to download more information on the Akuvox IP Intercom and Access Control range: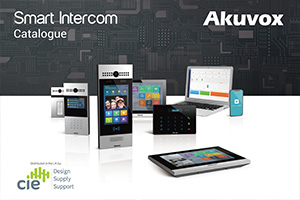 Akuvox's flagship product is the R29C smart IP intercom device which is one of the most advanced door intercom devices available on todays market! It is the first intercom to incorporate 3D facial recognition identification and QR Code access scanning for temporary / one-time access.

---
Related Products: