Bi-directional video
The latest feature of 2N OS 2.35 is bi-directional video. Bi-directional video means visitors can now see the receptionist they're calling directly on the display of 2N IP Style. This feature makes it ideal for receptions and remotely managed information points; it's also a great feature for people with hearing impairments as they can communicate using sign language. However to use this function the receptionist must have an IP phone with a camera.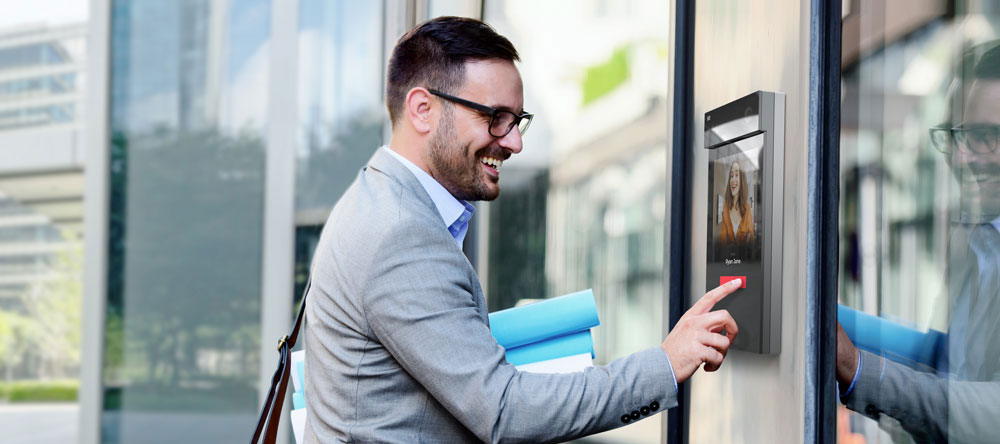 2N IP Style Updates
The 2N IP Style has some new features when you upgrade to 2N OS 2.35:
Signal display touches acoustically with a click similar to a phone; better feedback to visitors.
New showcase mode, which displays the current date and time and the weather in a selected or automatically detected location.
Support of Arabic.
Larger more user-friendly button for Bluetooth authentication via WaveKey.
---
Support of advanced T profile for ONVIF
ONVIF settings have been reworked, 2N intercoms now support both S & T profiles: the S profile which functions as a standard for basic video streaming, and the T profile which serves advanced video streaming. This brings new possibilities and events such as:
Motion detection or tamper alarm
Support of bi-directional audio
Broadening of integration possibilities
It is recommended you restart all the systems that use integration with 2N devices via ONVIF and check their settings and functionality after you upgrade to version 2.35.0.
---
Related Products: