Available now from main UK distributor - CIE, CYP has released it's brand new SY-300H-4K22 HDMI to HDMI Scaler, the ideal device to integrate previously incompatible 4K/UHD sources and displays in the boardroom, classroom or residential AV systems.

The SY-300H-4K22 is CYP's brand new HDMI-to-HDMI scaler which supports a wide range of resolutions up to 4K@60Hz (4:4:4, 8-bit) at both input and output. With in-built EDID and HDCP management it allows for control of any sources and displays connected to the SY-300H-4K22.
The scaled HDMI output image can be 'fine-tuned' using the HDMI Scaler's comprehensive On-screen Display GUI - with adjustment of contrast, brightness, hue, saturation, sharpness, noise reduction and RGB levels available to ensure the best visual result from any 'conflicting resolution' AV system.
The CYP SY-400H-4K22 also supports embedding & de-embedding of digital and analogue sources via the on-board digital optical and analogue stereo audio inputs and outputs.

---
CYP SY-300H-4K22 Connection Diagram: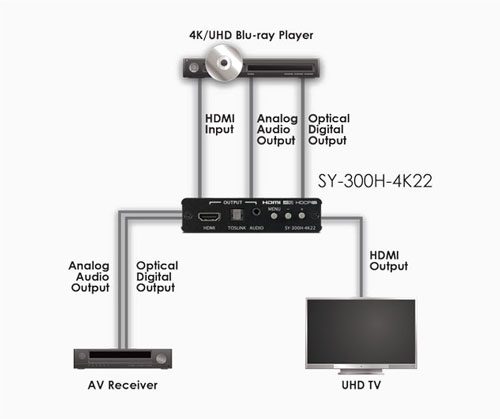 ---
What is a HDMI scaler?
A HDM Scaler is designed to allow users to match the resolution of a different display when multiple are used.