Available now from main UK distributor - CIE, CYP has released it's brand new PUV-1630TTX Table Top HDBaseT / HDMI transmitter, designed for simple and effective connectivity of AV devices directly from the boardroom table.

The PUV-1630TTX is CYP's brand new concept for the corporate / boardroom environment, where flexibility of AV devices and ease of connectivity are essential in ensuring a successful and professional meeting.
In a meeting room / boardroom environment where visitors are likely to be bringing along all manner of different AV devices with differing connectivity formats and output resolutions, the new PUV-1630TTX is CYP's new Table Top HDBaseT Transmitter - providing the perfect balance between ease of use and portability.
CYP's latest addition to their professional HDBaseT transmitter range offers a stylish, portable table top format HDBaseT transmitter which provides switching between its 2 x HDMI and 1 x VGA (+ audio) inputs, whilst automatically converting any high bandwith video signals (ie. 4K UHD) to meet the capabilities of the HDBaseT connection and the connected display resolution.
The PUV-1630TTX is extremely simple to connect - just a single Cat5e/6/7 cable provides power from the sending HDBaseT receiver (ie. Power-over-HDBaseT), as well as high resolution video, audio and automation control.
Compatible Receivers
The PUV-1630TTX is compatible with the CYP PUV-1600 Series of HDBaseT Receivers.
Click here for compatible receiver products.

---
Watch the PUV-1630TTX video now:
---
CYP PUV-1630TTX Connection Diagram: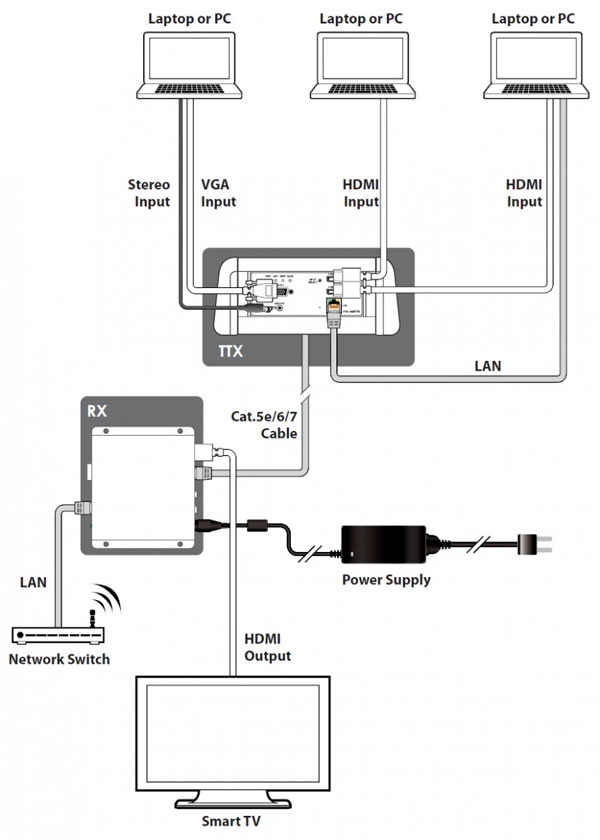 ---
How does the PUV-1630TTX work?
The power goes into the RX receiver unit which is situated near the television (always power located there). This then send the power all the way over to the table top PUV-1630TTX unit. The only connection being made that goes into the TTX unit is the CAT cable. On the unit itself there is VGA with analogue audio and 2 HDMI ports. It has also got switching technology and conversion technology. So if you put in a signal which is beyond the capabilities of HDBaseT it will automatically without user interaction convert and come out the other end.
What is HDBaseT?
HDBaseT is the convergence of uncompressed HD video, HD audio, 100BaseT Ethernet, various control signals for home automation and 100 watt power for specific devices delivered through a standard CAT5e/6 cable. HDBaseT supports all video sources, including legacy products, and does not add latency.
Using HDBaseT will help to transform a number of different industries including home entertainment, which will become more simple than existing HDMI solutions and will allow high quality signal to be sent a lot further than before through just a single wire. And with millions of homes already equipped with Ethernet Cat cables, much of the infrastructure needed for HDBaseT is already in place.
---