Available now from main UK distributor - CIE, CYP has released it's brand new PUV-1082-PRO HDBaseT Matrix aimed at the professional AV installer.

The PUV-1082-PRO is CYP's latest generation 10/10 HDMI HDBaseT Matrix and the successor to the hugely successful PUV-1082-4K22.
With all the innovation and features found in its predecessor, the new PUV-1082-PRO Matrix now features the latest AVLC technology - allowing transmission of 4K / UHD signals above the normal 10.2 Gbps of HDBaseT.
CYP's AVLC technology (Adaptive Visual Lossless Compression) overcome the 10.2Gbps limitations, enabling long-distance, multi-room / multi-zone transmission of data rates up to 18 Gbps.
By embedding AVLC technology into their multi-function 10x10 Matrix, we believe that CYP have developed one of their most feature-full, high performance HDMI Matrix products ever!
The PUV-1082-PRO transmitter also acts as an extendeder enabling 4KUHD sources up to 4K@60Hz (4:4:4, 8-bit) as well as 10/12 bit sources with HDR, including Dolby Vision, to be transmitted to a compatible receiver resulting in a perfect 4K 6G visually lossless image delivered to the display screen.
The PUV-1082-PRO also supports independent video output scaling on all of the HDBaseT and HDMI outputs. This is particularly useful when transmitting a 4KHDR signal to a mix of standard 1080p HD and 4K displays. High resolution digital audio formats such as LPCM 7.1CH, Dolby TrueHD, Dolby Digital Plus, Dolby Atmos and DTS-HD Master Audio as well as 3D video content are also supported.
PUV1-082-PRO Compatible Receivers
The PUV-1082-PRO is designed to be used with PUV-1830RX-AVLC or PUV-1810RX-AVLC receivers.


---
CYP PUV-1082-PRO Connection Diagram: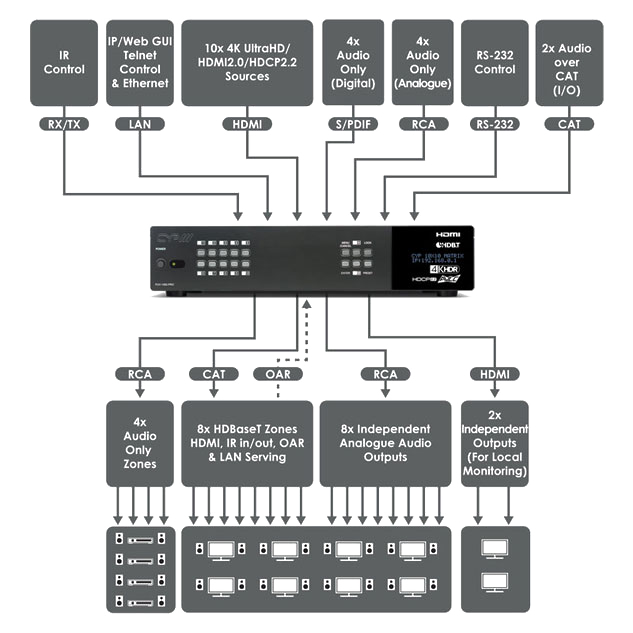 ---
Related Products: