The Akuvox flagship R29 Smart IP Intercom range has been further enhanced to help prevent the spread of viruses and diseases such as the COVID-19 coronavirus.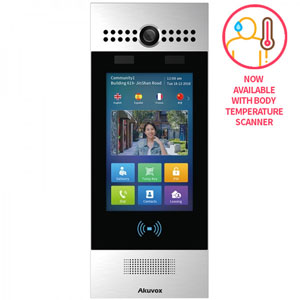 The latest addition to the range - the Akuvox R29C-B - now includes a built-in body temperature measurement function which will automatically check all staff and visitors to a building before they enter, to see if they may have a high temperature / fever - a key indicator of dangerous and contagious viruses and diseases such as coronavirus.
The Akuvox R29 series is one of the most technically-advanced intercom ranges on the market, featuring state-of-the-art authentication methods such as face recognition, QR code reader, voice commands, NFC, Bluetooth and RFID. All of these identification methods are completely 'contactless' - further preventing the spread of germs and viruses.
This latest version - the R29C-B IP Intercom with body temperature detection - is the next big step in what will become the 'new normal' for door intercom and building access, as architects, facilities managers and clients look for safe, 'touch-free' solutions to develop contactless pathways throughout the building.
---
Why use body temperature detection for access control?
High traffic main entrances and staff access points such as hospitals, transport hubs, factories and schools are increasingly using staff resource to manually test all people entering the building for fever-like symptoms using standard handheld infrared thermometers.
As well as taking-up valuable human resource, this manual testing puts staff at further risk of virus and disease transmission.
Using the Akuvoc R29C-B intercom with built-in temperature detection provides a fully-automated first line of defence to highlight anyone entering the building who may be symptomatic of a virus. The system can be set to highlight a specific temperature ranges and, where required, deny access to anyone presenting above the 'safe' temperature range.
Applications for temperature controlled door access
Hospitals
MDUs and apartments
Offices
Schools, colleges and universities
Doctors' surgeries
Factories and distribution hubs
---
Find out more about hands-free door intercoms to help prevent the spread of viruses
For more information on the R29C Smart IP Intercom with temperature detection, watch our demo video now or contact the CIE specification team today on T. 0115 9770075.
Featured Products: