As its name suggests, the new Indoor Compact is the smallest of 2N's range of touchscreen intercom answering units, providing a stylish, user-friendly intercom answering device for residential applications.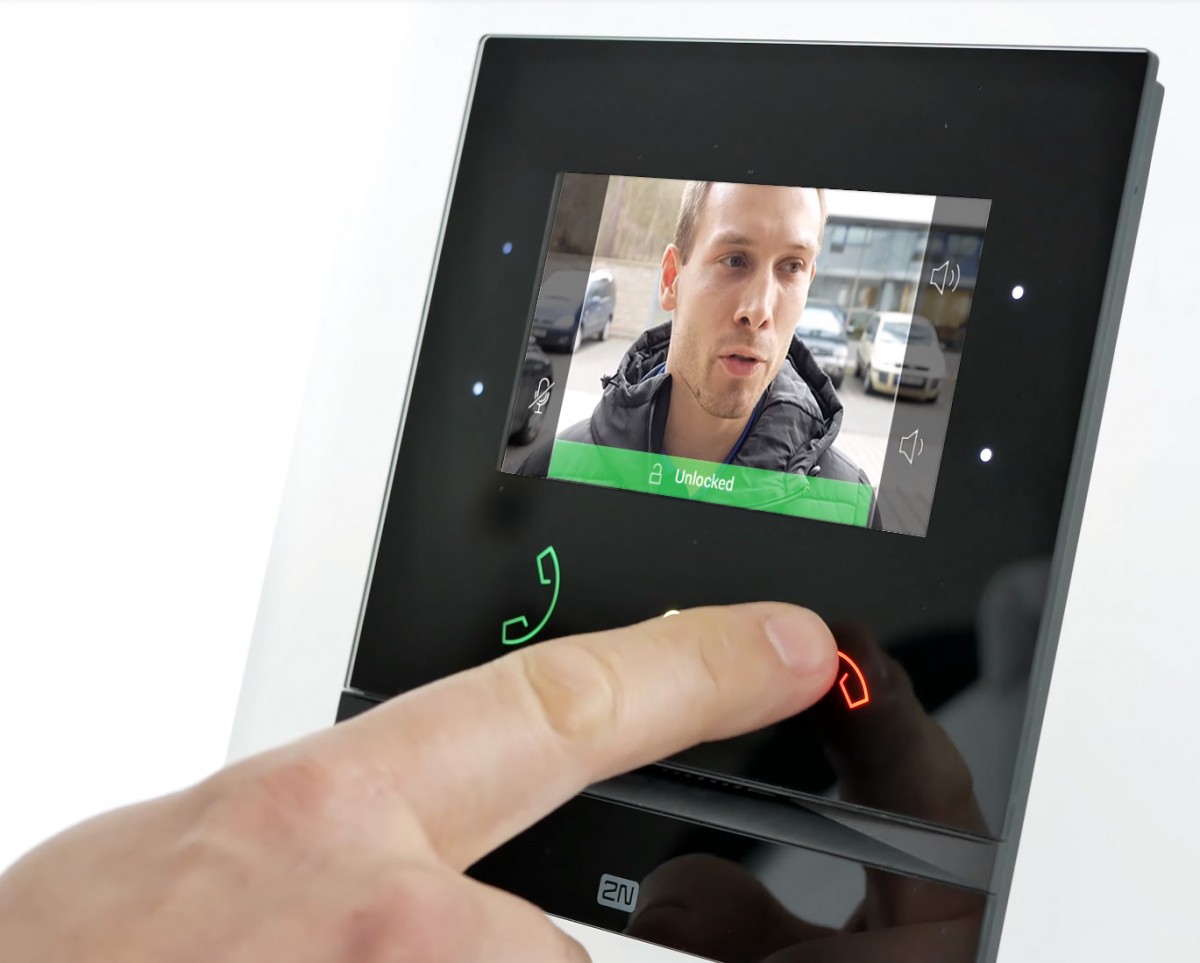 Available in black or white, the 2N Indoor Compact is both practical and stylish in design. The appearance of the 2N Indoor Compact will suit any home or flat with its glass surface and backlit illumination of its symbols/buttons.
Ideal for use as part of an IP connected intercom or door entry system - particularly in residential applications such as apartments or MDUs - the 2N Indoor Compact easily connects to the network for communication with 2N's full range of IP Intercom devices such as the Verso, Force and IP Base.
Unlike its bigger brother the Indoor Touch, the lower cost Compact doesn't feature a touchscreen, but is controlled using clear, icon-based touch buttons to answer and end calls from a door intercom on the network and a series of navigation buttons to the left and right of the screen.
The device features toughened glass, so it's well protected and scratch resistant and is flush mountable using the same universal back box as the 2N Indoor Talk.
The 2N Indoor Compact features an input for door bell connection and output for integration of an induction loop system, to assist users with hearing impairment who use a hearing aid.
And, as with all 2N IP devices, the Indoor Compact can be powered via PoE or 12v DC power supply.
Available now from ciegroup.com, the 2N Indoor Compact is an ideal solution for residential intercom systems where budget is a key consideration, but style and quality cannot be compromised..
Ideal for use in apartment complexes, home automation systems, modern interiors, large villas and high specification office environments.
Click on the links below for full product details:
Main features of the 2N Indoor Compact:
4.3" display for video communication with visitors
Capacitive buttons located next to the diaply
Remote management and configuration via the My2N portal
Home screen displays time and date
Missed call logs supplemented by sequence of images from IP intercom
Switching between video from IP intercom and external IP camera
Parental lock activated via code
Dedicated lift-call button from the comfort of your apartment
Induction loop output for hearing impaired users

---
What is an IP Intercom system?
An IP Intercom System is a wireless stand-alone voice/video communications system often used within a building or small collection of buildings. It is a two-way communication electronic device that can transmit and receive audio and/or video transmissions.
Intercom devices are available in various styles and designs. Some of the designs are simple while others are not. Leaving aside the various designs features, there are intercom devices specially designed for specific functionalities.
---
Different types/uses of an intercom system:
Wireless IP Intercoms
When cables cannot be run, a wireless system is used.
Wired Intercom Systems
A wired system can give more privacy and eliminate possible interference from neighboring systems.
Video Intercom
A video intercom will usually include a unit with a camera, speaker, and a push button going to an entrance door, and an internal monitor unit which can communicate with the entrance unit.
Apartment Intercoms
When a visitor presses a button for the apartment they want to speak to, the tenant can then speak back and press a button to unlock the door.
Security intercom systems
Security intercom systems are used to provide voice communications between two or more locations for security purposes. Security intercom systems are commonly used between a locked building entrance door and a constantly attended location in the building.
---
Related Products: