Available now from main UK distributor - CIE, CYP has released it's brand new MA-421 compact HDBaseT / HDMI Matrix with integrated audio amplifier - developed as the ideal AV control & distribution matrix for residential applications such as apartments and family homes.

The new CYP MA-421 Matrix Amplifier provides 4 HDMI Inputs (for sources such as Apple TV, Sky Q, X Box, BluRay, etc) and 2 HDBaseT Outputs - one of which includes an additional 'mirrored' HDMI Output.
This latest generation AV matrix also features integrated 20W power amplfier which can be used for additional sound reinforcement for any of the connected AV sources or, using the MA-421's ARC audio return pathway, from an additional AV source connected to the local (Zone 1) HDMI output display - ideal for use with an additional soundbar or loudspeaker system.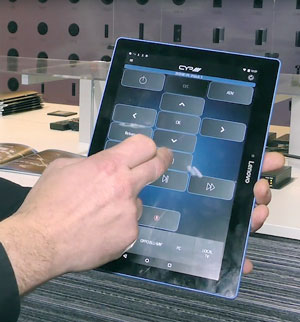 The MA-421 is also CYP's first AV device to feature the new CYP Control App - allowing simple set-up and full control of all inputs and outputs deirectly from the user's smartphone or tablet device.
CYP's unique AVLC (Adaptive Visually Lossless Compression) technology ensures full 4K60 and 4K HDR/Dolby Vision compatibility out to both HDBaseT outputs.
Any of the three outputs can be scaled to accommodate a 1080p display that might be included in your home set up! IR control with learning function (RS-232 and WebGUI is also available) enables it to be used with a programmable remote control. To further enhance the user-experience, our new CYP Control app can be programmed with all sources and display device controls, offering a single universal remote control for the whole system.

Supplied with PUV-1710LRX-AVLC Receiver
The MA-421 Matrix comes supplied as standard with 1 x CYP PUV-1710LRX-AVLC HDBaseT Receiver.
---
Watch the MA-421 video now:
---
CYP MA-421 System Diagram: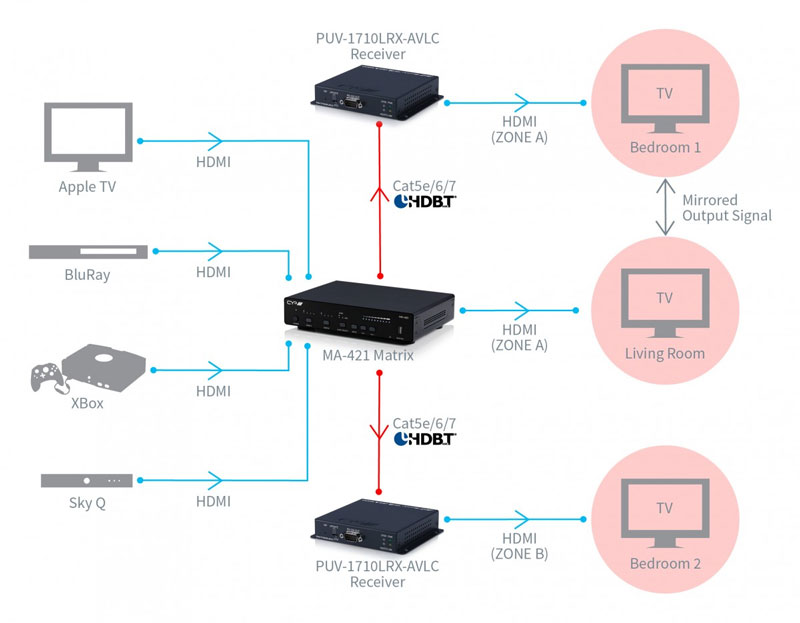 ---
What is HDBaseT?
HDBaseT is the convergence of uncompressed HD video, HD audio, 100BaseT Ethernet, various control signals for home automation and 100 watt power for specific devices delivered through a standard CAT5e/6 cable. HDBaseT supports all video sources, including legacy products, and does not add latency.
Using HDBaseT will help to transform a number of different industries including home entertainment, which will become more simple than existing HDMI solutions and will allow high quality signal to be sent a lot further than before through just a single wire. And with millions of homes already equipped with Ethernet Cat cables, much of the infrastructure needed for HDBaseT is already in place.
---
What is an Amplifier?
Amplifier is the term used to describe a circuit which produces & increases a version of its input signal. Not all amplifier circuits are the same however as they are classified according to their circuit configurations and modes of operation.
Small signal amplifiers are the most common used devices as they have the ability to amplify a relatively small input signal, e.g. from a Sensor such as a photo-device, into a larger output signal to drive a relay, a lamp or loudspeaker as example.
There are lots of different forms of electronic circuits classed as amplifiers. The classification of an amplifier depends upon the size of the signal, its physical configuration and how the input signal is processed, that is the relationship between input signal and current flowing in the load.
Featured Products: