Combined use of CYP's latest IP-7000TX/IP-7000RX transmitters and receivers and the IP-CS7 controller is perfect for an AV-over-IP system as it is both flexible and simple to set up.
Once the IP-7000TX transmitter and IP-7000RX receivers are connected to a network, the IP-CS7 automatically finds them and allows the installer to select which source goes to which display, all at native screen quality. This makes adding additional displays and sources a lot more simple and flexible than a more conventional matrix. In addition, the signal lengths can reach up to 200 metres (100m either side of the network switch), whilst the system also supports Matrix mode (multi-source to multi-displays) and video-wall mode.
AV-over-IP System Diagram: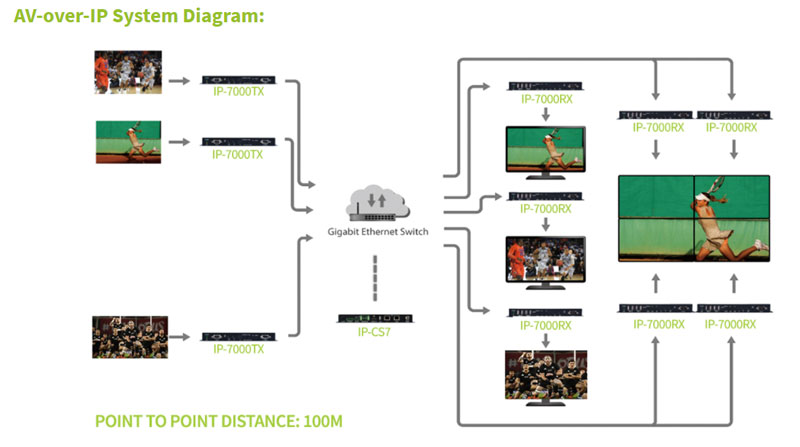 What makes the IP-CS7 such an intuitive control device?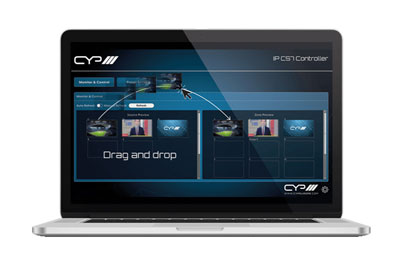 The IP-CS7 features drag-and-drop control where the user can preview what is playing from any source and then 'drag' it to any of the connected displays. This offers the user even greater flexibility, as they can view what is being outputted in real-time. The user also has the ability to switch pre-configured groups of sources or displays, which makes switching seamless even during busy working hours.
IP-7000TX/IP-7000RX & IP-CS7 main features:
• 4K@60 4:2:0 Over IP with 1 frame latency only
• Matrix & Video Wall Mode
• KVM support
• PoE & Mains Powered
• Simple drag and drop control of input sources with visual preview
Available to order now from CIE
Available now from ciegroup.com, the CYP IP-CS7 and CYP IP-7000RX / CYP IP-7000TX an ideal solution for an AV distribution system that allows total control from a central location.
---
Featured Products
---
---