What is remote concierge?
Remote concierge - sometimes also referred to as 'virtual concierge' or 'remote doorman' is a service that securely manages the entry of third-party visitors and deliveries to your premises remotely via a door intercom, CCTV or Access Control system. Ideal for applications such MDUs (Multi Dwelling Units) and shared co-working spaces, remote concierge services can often also manage resident payments, maintenance requests and room bookings, to provide an in-app single platform for residents, property managers and staff.
What are the benefits to the property manager and residents of using remote concierge instead of on-site staff?
The benefits of a remote or 'virtual' concierge are focussed on the reduction in costs and the ease of usage. To have a live concierge (an on-site staff member in the building 24/7) will have extremely high annual running costs and HR management considerations.
A 'virtual doorman' facility can provide the same high levels of service to be deployed in a building as an amenity, providing service to the residents and security for your overall building. And a remote concierge service can easily be deployed using industry-standard door intercom panels or access control readers throughout the building.
Why is there a requirement for Remote Concierge?
Our life has changed in the past few years; the amount of deliveries that are flowing into our building is increasing exponentially. From Amazon, UPS, Deliveroo, Fedex, dry cleaning, service providers – a huge increase in 'foot traffic' requiring single-use or temporary access into the building. Staffing a multi-tenant building's lobby or reception with a live concierge solves that issue, of course, as the doorman or concierge can provide checked or 'filtered' access into the property.
The concept of remote concierge has created an alternative service option for those properties where employing a full-time, on-site member of staff may not be possible or cost-effective. 24/7 remote concierge will allow access into those buildings using a combination of access control devices at the entrance, a remote response team and a resident in-app experience.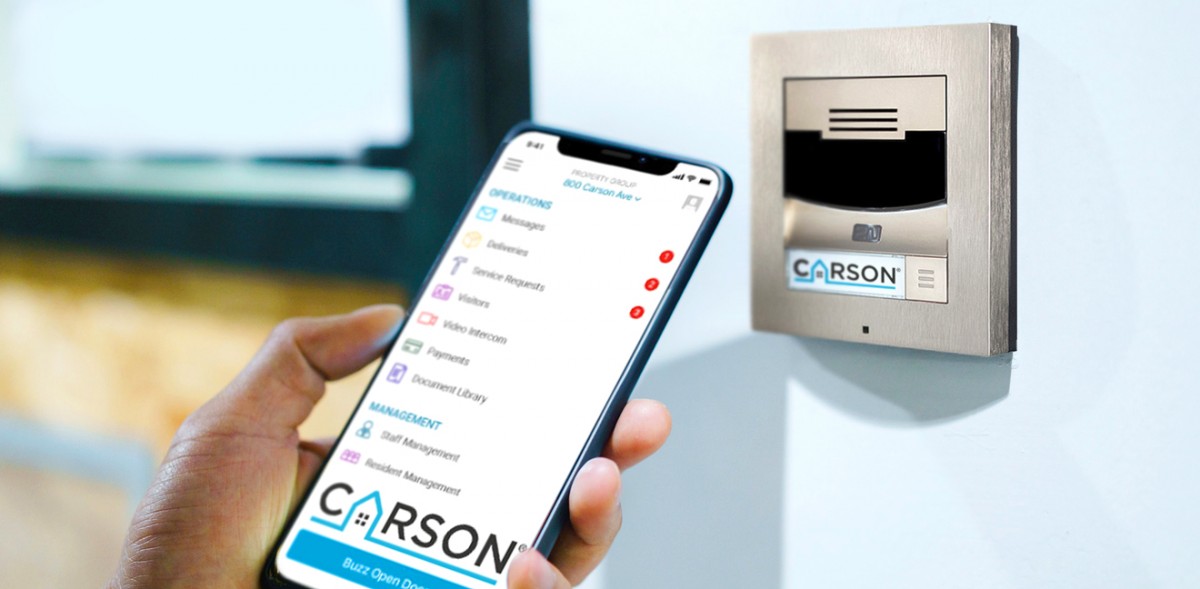 What does a remote concierge look like?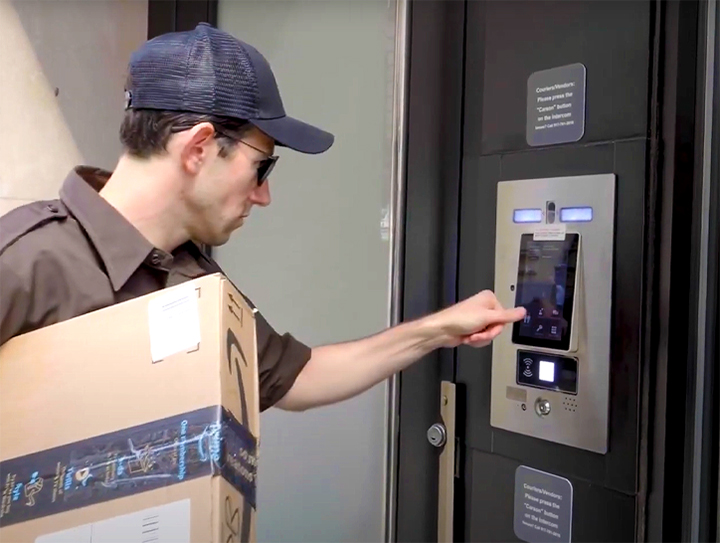 Access into a multi-tenant or MDU building usually starts via a door intercom system (which may also be referred to as a 'video phone' or 'door phone'). The intercom system is our gateway to allow access into the building. When a courier, a delivery person or a guest comes to the building they face the intercom system, they hit the remote concierge delivery button which is integrated within the intercom itself and, in a few seconds, a member of the the 24/7 remote concierge team will pick up the call. The 'concierge' will then vet the courier into the building by asking for proof of ID etc, before allowing that courier / delivery person into a building, hence solving the issue of access into the building. Once a delivery / a courier is in the building, the resident will be notified within their app that their package or their guest or their service provider is in the building.
Remote concierge systems will usually only allow limited access levels in the building. So rather than allowing a courier to deliver a parcel all the way to an individual apartment, the virtual doorman may only have permission rights to open the lobby door, or the lobby and parcel store doors. Any route through the building which the courier has access to, may also be tracked by the remote concierge team using additional video surveillance cameras (CCTV).
Does remote concierge provide business opportunity?
The business opportunity is tremendous; the UK market is prime for a solution for remote doorman systems such as Carson Living, because the hardware already exists in many multi-dwelling and multi-tenant properties.
The technology is already installed, smart intercoms are being installed as standard in multi-user buildings. But the ability to provide a one-app experience to residents, where the app doesn't only answer intercom calls, but allow access offers an additional USP to your property in a crowded and competitive market. Users can send an electronic key to their visiting guests or service providers, or pay rent from within the app. There is mass messaging for property managers, you can report a service request - all from the convenience of single smartphone app. Remote concierge does much more than just an intercom app. Platforms such as Carson can be tailored to meet the individual needs of property managers, companies and residents.
What does 24/7 Remote Concierge & Access provide?
Remote concierge can provide a wide range of 'virtual' and remote support services which include:
24/7 remote doorman services
Visitor management
Visual verification and ID checking
Receiving of parcel and food deliveries
Integration with door intercom and access control systems
Maintenance requests and appointment booking
Integrated payments
Property management software integration
Amenity reservations
Live camera view
Community messenger board feature
In-app branding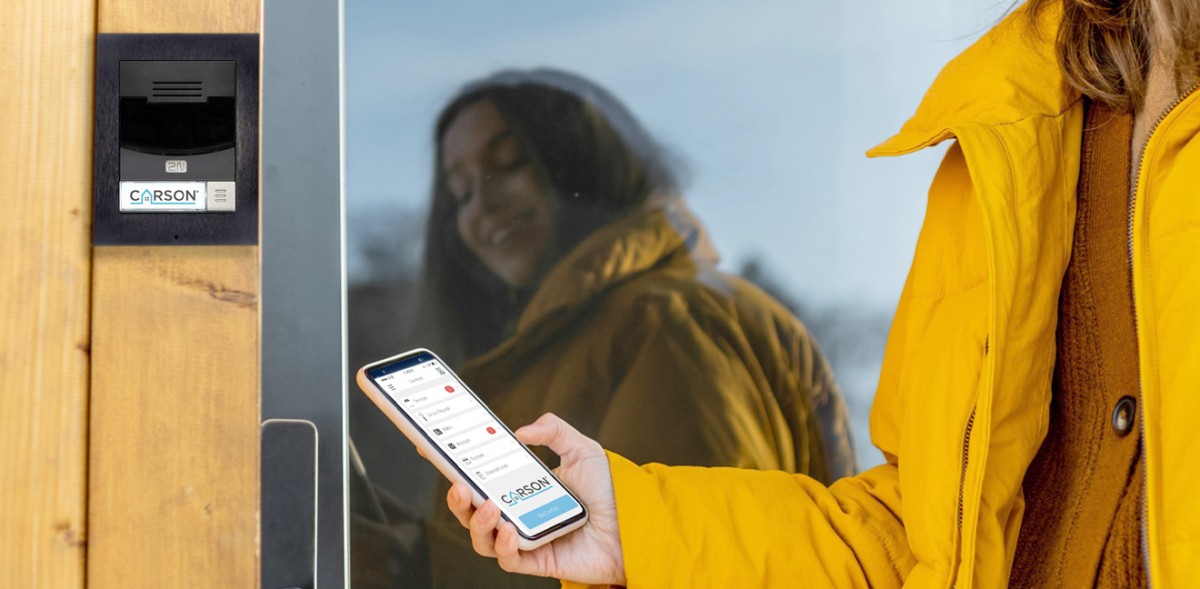 What is a one-app resident experience?
Within the burgeoning MDU sector ('multi-dwelling units' – aka. 'apartments') there is a fast-growing demand for smart building, home automation and integrated systems throughout the building and within each individual residence. In addition, resident expectations to control their home technology and book services from their smartphone has become a key factor in high-end building specifications.
Smart home and smart building technologies will inevitably offer their own proprietary app – but with more and more smart-controlled devices, our phones are becoming swamped with individual control apps and interfaces.
A 'one-app resident experience', therefore, addresses the increasing demand for 'everything in one place' services control, appointment/room booking and payment systems all within a single smartphone application.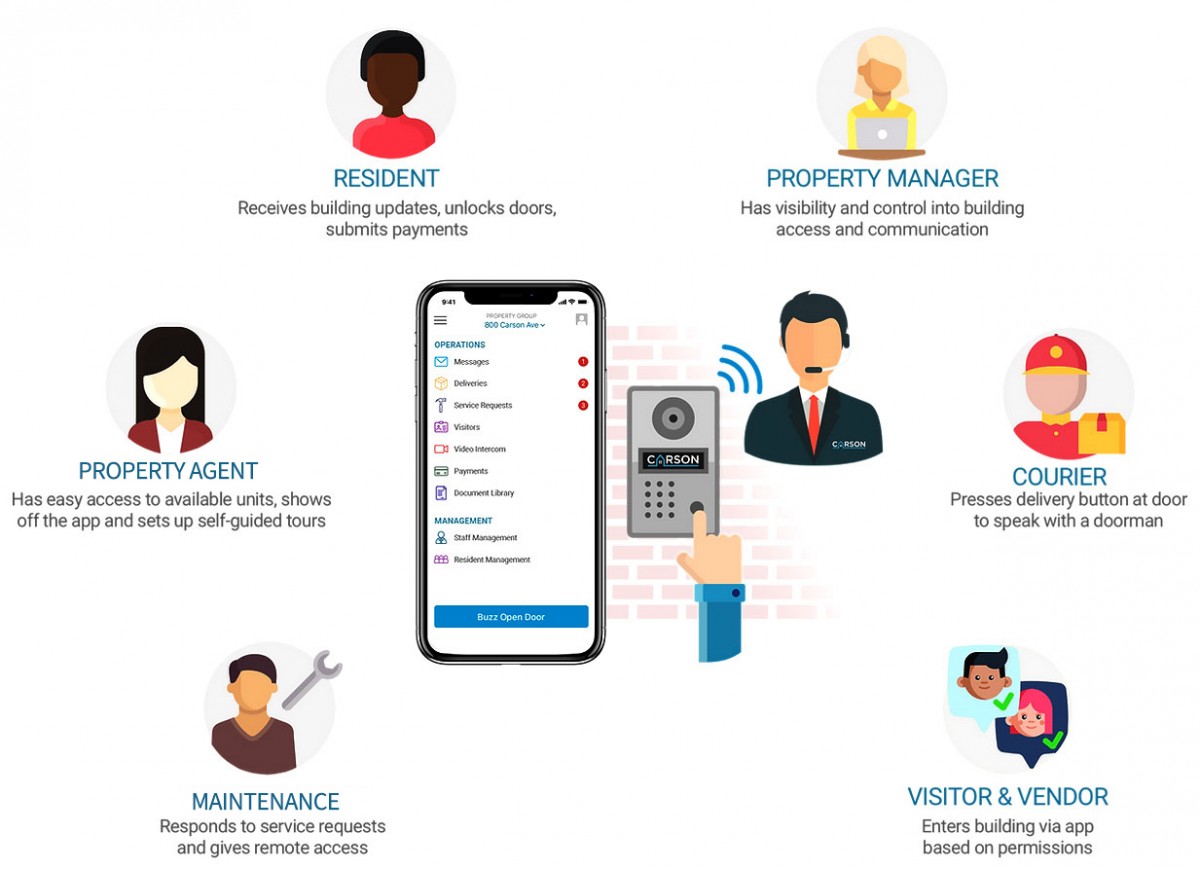 Talk to the CIE team about Virtual Concierge and Remote Doorman services
If you would like to discuss your next Building Project or Door Intercom system, or would like more information on the Carson Living 24/7 Remote Concierge solution, please call the CIE sales team on T. 0115 9770075 or email info@cie-group.com.
Related Products:
---
Find our more about Access Control and Remote Concierge