Cyber security, why is it so important in the home?
Cyber security is getting to be a big topic. It hit the corporate industries first and people started to realise they needed to lock down their home wifi networks because of how many smart / connected devices we have in our homes now, e.g. thermostats, lights, speakers.
And, of course, in the average home, we don't have a cyber security or IT team that will manage our network / wifi security for us!. So the consumer relies their data / telecoms service provider, they bring it home and they turn it on and go without considering the security that's involved.
It's about trying to get the home owner educated and a few tips for the homeowners to be able to secure their network. Protecting your home network and personal data, just like you protect your home valuables.
Great tips to ensure a safe home network:
CHANGE YOUR PASSWORD – Usually the passwords will come from the service provider or a brand new router or modem switch, these have a standard password and everyone knows what they are and most people don't change them. So that the number one. If a thief has the keys to your house, he's going to come in and take your stuff.
MAC Filtering (Media Access Control) – Your device has a specific hardware address and you can program that hardware address into your switch and it will only allow those hardware addresses to connect to your network.
Neighbourhood – Reaching out to your neighbours, friends and people around you. A neighbourhood watch network – help neighbours and people around you into being secure with changing passwords, MAC filters etc. Passing on the knowledge of how to keep networks secure.
Hide SSID's (Service Set Identifiers) – A lot of people don't hide their SSID's and if everyone in the family knows what it is or it's your last name, if you broadcast that people know where that house is. And that is just another piece of information that cyber criminals can get to use in their search for data on you. So change that SSID to something random and hide it. Make a note inside the house e.g. on the fridge so everybody knows it, but it is hidden.
Regularly check your bank statements – If somebody is going to steal from you, they're not going to take it out a big sum of money they will take small amounts at a time. So keeping an eye on your bank statements and keeping track of what unknown charges to your account actually are is important.
---
Let the CIE design team help with your next system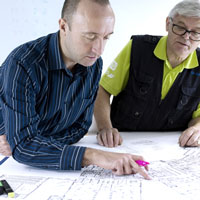 CIE's award-winning team of AV and systems integration experts provides a unique total project management service to the UK installer/integrator market.
Our AV experts offer a wide range of added-value services above and beyond the expectations of many other distributors including; System Design, Product Specification, Wiring Diagrams, Rack Design & Build, System Configuration, Training and Onsite/Remote System Support.
Our customers can access any or all of these services - many of which are totally free-of-charge - on a project by project basis; benefitting from increased skill levels, specialists in new technologies & integration or simply to increase your resource for pre- and -post sales support.

---
Got a question for the HowToAV team?..
HowToAV.tv provides a whole host of tips, tricks and know-how for the professional and residential technology sectors.
Subscribe to our YouTube channel now at howtoav.tv for all the latest video casts or send us your questions to [email protected]