What is High Resolution Audio?
High Resolution Audio (aka Hi-Res Audio or High Res Audio) is the latest develeopment in high quality sound reproduction for those looking to achieve the best music experience possible from their personal/residential sound system.
---
What is a High Res Audio Player? (or Source)
The main source (or media player) for Hi-Res Audio will normally be a streaming device or downloadbale files onto a hard drive to be played directly through the system from your desktop computer.
Streaming devices can include your smartphone, tablet or portable audio player, or files could be downloaded to a professional AV receiver.
---
What hardware do I need for Hi-Res Audio?
The Japan Audio Society has created a Hi-Res Audio standard which spells out the requirements for High Resolution Audio equipment. Approved products will bear the Hi-Res Audio logo.
The equipment - such as loudspeakers, amplificastion, processors and media players - needs to support a sampling frequency of 96kHz to 192kHz at 24 bit.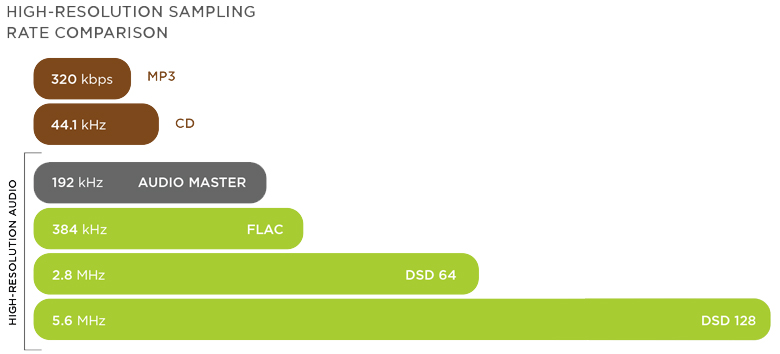 ---
Will Hi-Res Audio transmit over ethernet or wifi?
With a robust, high performance network in place (Cat6 or 4G for example), streaming high res audio over ethernet or a wifi network is unlikely to experience any problems.
High Resolution Audio files can also be be 'packed' using MQA (Master Quality Authentictaed) software to provide high-quality lossless sound in a much more streamable format.
---
Is there a downside to Hi-Res Audio?
One issue with considering hi-res audio content is the significantly greater file sizes (though these can be overcome using MQA - see above).
A hi-res audio file can easily be in the realms of tens of megabytes in size and, therefore, just a small number of audio tracks can easily take up a lot of space on your media player or streaming device, should digital storage capacity be limited.
---
Got a question for the HowToAV team?..
HowToAV.tv provides a whole host of tips, tricks and technology know-how for the professional audio visual industry.
Subscribe to our YouTube channel now at howtoav.tv for all the latest video casts or send us your questions to findout@howtoav.tv