---
What is the BS 8300 Code of Practice?
BS 8300 is a British Code of Practice that sets out the requirements of how buildings should be designed, constructed and maintained to meet the needs of disabled people as well as create an accessible and inclusive environment for them.
BS 8300 is in place to ensure everybody has access to enter, to use and to exit a built environment open to the public equally. This is aimed particularly at the diasbled, elderly or those less able to stand.
---
Why has the BS 8300 British Standard been revised?

One of the largest disabled groups in the UK with 1 in 6 of the population (11 million) live with a hearing impairment, a ¼ of those wear hearing aids. With these figures in mind the B/559 committee (the official body which creates and revises the British Standards), realised the original BS 8300 code of practice had become outdated and needed revising.
The previous British standard was largely based on the Equalities Act 2010 and Part M of the building regulations which stated "reasonable adjustments" to enable people with disabilities to use their services and "provide auxiliary aids and services" including hearing induction loops, RF and Infrared Assistive Listening Systems.
The original British standard offered limited detail and did not give examples of what makes best practice. Having this uncertainty meant it was hard for AV installers to justify their knowledge over an electrician who could fit an induction loop system. It also meant the end clients weren't appropriately served.
---
What are the main aims of the new BS 8300 revised standard?
In previous versions of the BS 8300 code of practice the main focus was on the design of seperate accessible facilities and their ability to meet requirements of the disabled. This more recent version, however, focuses on the inclusive built environment as a whole and how it can be made universally accessible, meaning developers can build/make the environments inclusive from the start. Therefore the revisions have been made to create inclusive design of an accessible built environment.
The key element of the revision to BS 8300 is to offer "equal access to services and buildings". As an example, this includes hearing aid wearers no longer only having access to only one designated checkout, they now are able to use any checkout as they all offer induction loop systems or other alternative assistive hearing systems.
Given the progress of innovation and planning, individuals should never again be 'highlighted' by their disability and should be incorporated into the environment in a fully inclusive manner.
---
What areas do the new BS8300 guidelines extend to?
There are now a firm set of guidelines for those in the construction industry to adhere to in order to be BS 8300 compliant. The guidelines apply to within the building itself and the immmediate surroundings. For example:
Access routes to and around all buildings
Entrances
Door fittings
Steps/stairs and ramps
Lifts
Corridors and passageways
Guard rails
Surface finishes
Signage
Lighting
Parking areas
Storage facilities
Provision of seating
You must consider every aspect of a buildng/its surroundings and how it impacts on a users accessibility.
---
What impact does the new BS 8300 standard have on AV installers and customers?
As the guidelines of the BS 8300 standard were developed by industry experts, they recognise the importance of expertise/knowledge in ensuring that the application of resources including Induction Loops and Assistive Listening Systems meet the needs of the end user. The revised British standard covers all external accessibility issues as well as all internal issues. The standard states which public areas should have assistive hearing systems and what type of loop system should be specified.
If an assitive hearing system can't cover the whole environment it is meant for, it must be addressed with clear signage to indicate where it is accessible. Environments and sectors where assistive listening systems should be applied include:
Help and refugee points, seating and waiting areas
Reception/check out desks, ticket offices, points of sale, checkouts
Entertainment venues – cinemas, theatres and exhibition centres
Boardrooms, interview rooms, function rooms/halls
Public sector buildings – educational, cultural and scientific
Airports and railway stations
Sporting venues
In any project you may be involved with the new revised standard of Induction Loop integration cannot be ignored. The use of microphones within the loop system is also covered – this is where an AV professional's knowledge will make a difference in ensuring the most appropriate products are selected.
---
Why using experts and constant maintenance is important for Induction Loops:
It is no longer enough to just install a loop. If a person with hearing impairment/loss cannot access information or entertainment because the system has not been specified or installed properly, the new revised standards have not been met.
There is now a requirement for reactive and preventative maintenance of hearing induction loop systems, using a provider with expert knowledge. So having the knowledge on how to survey a room, check for interference or how to specify the correct microphone – these are all issues that highlight the need and importance of expertise in every project at the earliest stage possible.
Regular testing is another essential to be sure of compliance. If an induction loop system is not regularly tested and a loop user goes into a building to find the loop system does not work and nothing can be done about it at that stage – the standards have not been met. Using a provider with specialist knowledge from the beginning helps protect customers from reputational damage as well as the financial consequences of a loop system not working and not meeting the BS 8300 standards.
---
The importance of staff training on Assistive Listening Systems:
Staff members are the connecting point between the hearing loop and the user. It is essential that staff know a loop is in place and the basic functionality of it; this way they can advise customers and visitors accordingly.
A lot of hearing aid users have found that induction loop systems are in place but are turned off or staff are un -aware that the loop system does not work. This is caused by lack of staff training or lack of testing using an appropriate testing meter. This is not only frustrating for the users of the loop, it also means people are likely to take their business elsewhere.
---
Why is clear signage essential in regards to BS 8300?
Signage is part of the BS 8300 code of practice, it is part of an integrated communication scheme. It is essential as it gives clear directions, information and instructions for use of a building.
Why is clear signage essential for Induction Loop and Assistive Listening Systems?
Clarifying where a loop, IR or RF system exists is fundamental so that the user can access it effectively. There should always be corresponding signs wherever an induction loop system is installed.
Why does the new standard BS 8300 matter?
The new BS 8300 standard matters as it cannot be ignored in any project that you may be involved with. The new standard also provides more clarity on how the buildings should be designed, constructed and maintained to create an accessible and inclusive environment for disabled people.
For AV installers and integrators it recognises and increases the value of expert skill; however, that expertise must be up-to-date and range completely across these new changes.
---
Table D.1: Examples of where Induction Loop Systems are used

Application / Location
Typical Sound Source
Type of Loop / Assistive Listening System
Appropriate Level of Provision
Bank counter
Staff voice
Counter loop
Ideally every counter provides a loop.
If glazed screen is present then a speech transfer system is needed in addition to the loop.
Supermarket checkout
Staff voice
Counter loop
Ideally every checkout provides a loop.
Reception desks
Staff voice
Counter loop
Customer service tills
Staff voice
Counter loop
Retail point of sale
Staff voice
Counter loop
Minimum of every other counter provides a counter loop.
Check-in desks
Staff voice
Counter loop
All check in desks.
Payment window
Staff voice
Counter loop and speech transfer system
All payment windows.
Ticket window
Staff voice
Counter loop and speech transfer system
All ticket windows such as transport, theatre etc.
Retail point of sale (self service)
Audio from self-service unit
Integrated loop
All units
Help point or information point (that provides audio)
Audio from help point
Integrated loop
All help points
Refuge point
Audio from refuge point
Integrated loop
All refuge points
Door entry systems (entrance panels)
Audio from door entry panel
Integrated loop
All door entry panels
Lift emergency intercom
Audio from intercom
Integrated loop
All emergency intercoms
TV listening (home)
TV
TV loop system
TV listening (communal areas)
TV
Large area loop
Announcements (airports, train stations)
PA announcement system
Large area loop or a loop that covers a designated area (which will require clear signage)
A designated area (zone) is identified that relates to the announcement and gives maximum coverage (attention is needed to ensure specific zoned areas are looped accordingly).
Conference rooms
Presenter's voice / AV system
Large area loop
Meeting rooms
Attendees' voices / AV system
Large area loop
Microphone type and coverage needs to be specified correctly.
Boardroom
Attendees' voices / AV system
Large area loop
Microphone type and coverage needs to be specified correctly.
School classrooms
Teacher's voice / AV system
Large area loop
Could be used in conjunction with a Soundfield system.
Lecture theatres
Tutor's voice / AV system
Large area loop
Could be used in conjunction with a Soundfield system.
Places of worship
PA system
Large area loop
Ideally the whole area of the congregation is covered. If this is unachievable a minimum of 50% is attained and clearly signed where the loop is operational.
Entertainment venue
Venue sound / AV system
Large area loop
Consultation rooms
Consultant's voice
Counter loop / small area loop
Where the acoustic environment is benign and the consultant and patient are within 2m of each other an induction loop might be unnecessary.
Communal rooms
Presenter's voice / AV system
Large area loop
Nursing, residential and care homes, day centres, community centre.
Via a microphone
In phased array configuration
---

---
Need help planning your next project?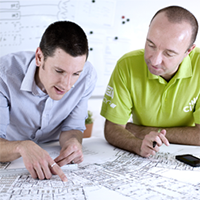 CIE is one of the UK's leading and most innovative professional AV distributors and is a leading provider of Induction Loops and Assistive Listening Technology Systems.
With over 50 years experience in supply and system design for many of the UK's largest, high profile audio projects, our AV experts provide a unique level of technical support and customer service.
Call the CIE AV experts now on T. 0115 9770075 or email us at [email protected]
---
Featured Products