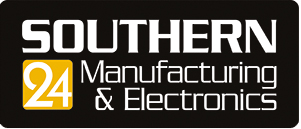 Show Details:
Dates: 6th - 8th February 2024
Times: Tues 9.30am ~4.30pm | Weds 9.30am~4.30pm | Thurs 9.30am~3.30pm
Venue: Farnborough International Exhibition and Conference Centre, Etps Rd, Farnborough GU14 6FD
Stand No. K70

Join the CIE team as we demonstrate our unique Custom Electronics Solutions at the 2024 Southern Manufacturing & Electronics Expo - The South of England's Premier Manufacturing & Electronics Show.
Southern Manufacturing and Electronics is without doubt the main manufacturing show in the South, if not the whole UK. The Show is amongst the greatest market places in the country for all varieties of manufacturing hardware, embracing just about any possible engineering process from electronics and automation to metrology and fabrication.
CIE's specialist Electronics Team will be on-hand throughout the day to demonstrate many of our recent customer cable & connector projects and to discuss how we could help with our next connectivity requirement.
---
SEE THE ABSOLUTE LATEST in machinery, tooling, design, production and logistics. Meet the top names specialisnig in Precision Engineering, Automotive/Aerospace, Defence, Electronics, EMS, Marine, Medical Technology and much more.
FREE SEMINARS present an outstanding opportunity to hear world-class presenters explain their ideas in manufacturing, engineering and industrial management. See the full programme and book your place online at www.industrysouth.co.uk
SEE THE NEW PRODUCT LAUNCHES AND LIVE DEMONSTRATIONS from world leaders in CNC Machine Tools and Machining Centres, Robotics & Automation, PCB Design, Subcontract Manufacture, Electronic Components, Materals, Composites & Adhesives, CAD/CAM Tools, Fasteners & Springs, Laser Cutting, Packaging, Labelling & Marking, 3D Printing, Pressings, Fabrications & Enclosures, Metrology & Test Equipment, Coating & Finishing, Motors, Drives & Controls, Handing & Storage Solutions - and many more!
PRE REGISTER TODAY FOR YOUR FAST-TRACK ENTRY BADGE, SHOW PREVIEW AND FREE CATALOGUE ON ENTRY