Axis Communications Audio UK distributor
CIE are the official I.P. audio specialist UK distributor for the Axis Network Audio product range. Not only do we stock the audio range of products, but our team of system designers and support technicians work hand-in-hand with Axis and Axis partners to provide expert advice on product choice, system design, system specification, system set-up and after sales service.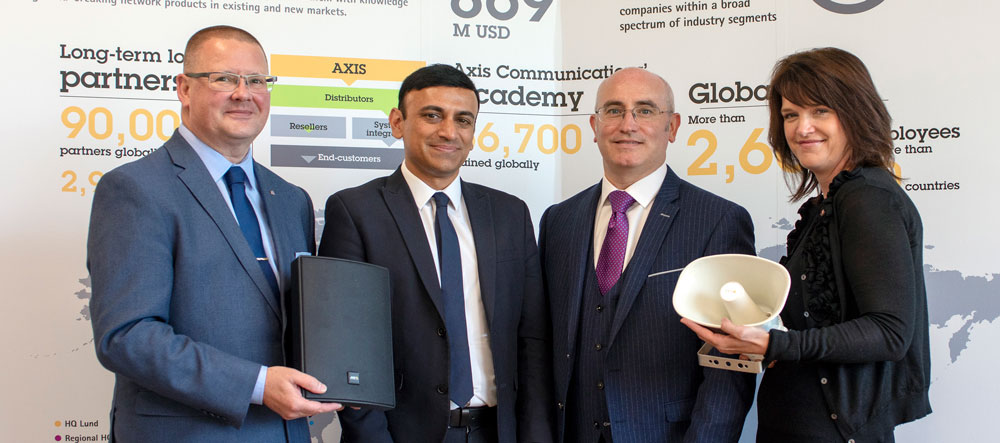 CIE were made by Axis in July 2018 Axis distribution partner for their network audio product range to the UK integration sector.
A world of audio possibilities
Axis network audio systems are complete high-quality audio systems you can use for a wide variety of applications such as:
Live or scheduled announcements in different zones
Create ambiance with easy and flexible scheduling of great-sounding background music
Improve security on your premises with event-triggered announcements and direct callouts
All while enjoying the many benefits of a network audio system
---
Axis Communications Network Audio product range:



---
Background music services for business
Partners who provide background music for Axis network audio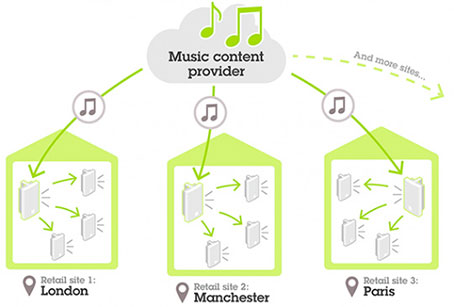 Axis works with a number of third-party partners to provide cloud-based music content services for use wiht the Axis network Audio product range.
Axis network audio systems let you manage your music, delivering it via Axis speakers to your customers at the right volume and at the time and place of your choice. You can, of course, also use Axis systems to deliver live or pre-recorded public address announcements and background music.
Axis currnetly supports the following music content partners to offer you a wide choice of music content to suit the needs of your business and your brand:
Soundtrack Your Brand
Royal Streaming
MUSIC2BIZ
Pinesker Media Company
---
Public address
Broadcast to single or multiple zones
An audio-over-IP (or 'network audio') system provides a highly flexible and controllable system for message brodcasting and updates in applications such as schools, retail stores, hotels and public buildings. For example, you can use it to make a live announcement calling someone to a specific area, such as a colleague to the clothing department. To make a scheduled announcement about the start of the school day. Or to issue a live or triggered announcement during an emergency.
Automated triggered audio clips
Wrong way detection
By integrating camera, software and network audio you can detect people moving in the wrong direction and notify immediately via an audio message or an alarm via the speaker. An easy and cost-effective solution for minimising losses due to theft.
Real-time direction detection
Wrong-way notification
Loss prevention
Cost efficient.
---
Remote audio
Deter unwanted activity
Improve security on your premises with direct callouts, live or recorded. Axis outdoor loudspeaker provides clear, long-range speech for remote speaking in video surveillance applications enabling an operator to remotely address people and deter unwanted activity. The speaker can also play a pre-recorded audio file when it is manually or automatically triggered in response to an alarm event.
Deter crime
Fewer guards on site
Cost efficient
---
Security
Stop unwanted activity in its tracks
A network audio system is the perfect addition to a video based security installation. Perimeter protection is a great example of this. Imagine if a potential intruder climbs a fence. The camera alerts a security guard to give a warning to the intruder using the audio systems, "we can see you, you're trespassing." More often than not this type of warning is sufficient, preventing the need for additional security measures.
---
Click to download more information on the Axis Network Audio range:
---
Frequently asked Audio-over-IP questions:
---
In a traditional school audio system - one system is for public address and another for visual or media use. For optimum efficiency in schools there are now combined systems which use network audio systems, this brings new opportunities for schools to consider. Using network audio has enhanced the traditional audio systems functions and opened opportunity for use throughout the entire school grounds and campus in a more efficient way.
To find out the benefits of audio in education in depth see the link above to the blog in full.
It is difficult knowing it you should replace an analogue system, especially when you have spent alot in the equipment. To complicate matters further you can now combine existing analogue audio systems with network audio devices.
So before you decide to throw out the analogue system installed - weigh out all the pros and cons of both digital and analogue. This blog will help you with your decision of which solution is best for you.
As technology evolves so does the opportunity for integrating audio into network systems. Our partners Axis are well known for their cameras and surveillance systems. As audio and CCTV naturally fit together, it made sense for audio solutions to be added to the Axis range. The addition of audio to surveillance allows users to both hear and speak to the people captured on camera, therefore improving the security solutions effectiveness.
Adding audio to video helps to improve the prevention of crime as well as preventing the need to call security or the police. To find out more see the link above to read the blog in full.
There are many benefits of network audio in the retail environment, such as:
• Lower total cost of ownership and higher flexibility
• Easy to manage
• Scalable and flexible
In this blog we take a look at the benefits of network audio (or 'audio-over-IP') technology for in-store retail marketing and customer communication.
Panic in an emergency can become a big threat as it can escalate a situation and worsen the effects of what has just taken place. Fast and prompt communication can really help in these circumstances and reduces the level of panic. By providing clear instructions this enables a faster solution e.g. faster rescue operations and efficient access to the scene for the emergency services. It also helps to direct the crowds to the designated emergency areas and reunites friends and family.
After initial panic of a situation, people need reassurance that the area is once again safe - using public announcement once again to deliver this message is crucial.
---
Featured Products: