Leading AV distributor and technology training innovators - CIE AV Solutions - has announced the latest in their series of FREE training academies for the professonal integration sector.

These brand new, free 1-day training academies - I.P. Intercom Installation Essentials - provide a hands-on introduction to the award-winning 2N range of I.P. connected Intercom solutions and deliver a detailed, interactive understanding of the specification, configuration and installation of the latest intercoms and access control solutions over an I.P. network.
Ideal for security, telecoms and AV professionals looking to add security and access control systems to their integrated portfolio and technical skill set.

Dates & Venues
Course Details

Duration: 1 Day
Cost: Free of charge!
Aimed at: Security, access control, telecoms, AV and home automation professionals
Course Content
CIE AV Solutions reveals the latest in our series of free professional training academies for security, telecoms and AV professionals.
These free, 1-day academies - I.P. Intercom Installation Essentials - provide an in-depth understanding of the latest I.P.-connected Intercom and Access Control technologies, protocols and standards and, using hands-on demonstrations and real-life project examples, will demystify the secrets of I.T. networks and the proliferation of the AV IT partnership.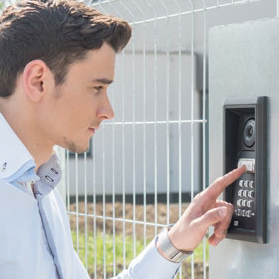 These sessions offer a balance of hands-on product demonstrations, project analysis and configuration guidance to ensure that delegates complete the course confident in their ability to specify and install high quality intercom solutions as part of a fully-integrated building management system or smart-building solution.
Our team of experts will also demonstrate the full range of award-winning 2N Helios I.P. Intercom and Access Control solutions.
Attending delegates will benefit from exclusive introductory special offers on the 2N range and, on the day, will be treated to free lunch and refreshments throughout the course.
Delegate Achievements
Understand how I.P. technology has revolutionised intercom and access control connectivity

Understand the protocols and standards of I.P. networks relevant to intercoms systems
Gain the knowledge and skills to specify and configure a fully-integrated I.P. Intercom / Access Control system

Realize and understand the opportunities to integrate an I.P. Intercom system as part of a building management system or smart-home solution

Decipher I.T. and network terminology and protocols

Experience a first-hand practical 2N I.P. intercom solution using live project examples

---
Featured Products: